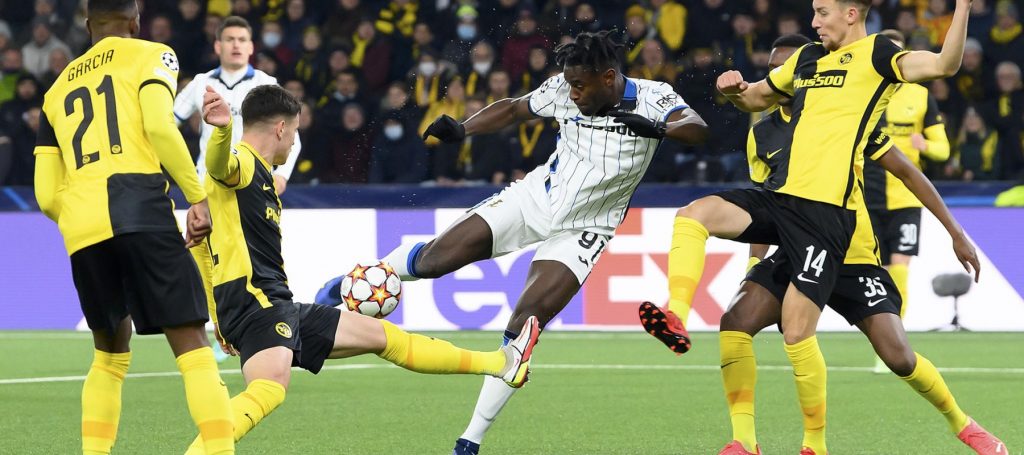 Young Boys and Atalanta settled for a three-all draw in a six-goal thriller for Group F of the Uefa Champions League late on Tuesday evening.
Striker Duvan Zapata gave the Italian visitors the lead barely after 10 minutes into the game via a deflection which gave the goalkeeper no chance.
After the half-hour mark, Theoson Siebatcheu equalised for the hosts with a glancing header from a corner-kick.
In the second half, Jose Palomino restored Atalanta's lead with a stunning volley from the edge of the box in the 51st minute, only for Vincento Siero to pull the Swiss hosts level once against with 10 minutes remaining to regulation time.
Four minutes later, the Swiss giants thought they had stolen maximum points when Silvan Hefti scored.
However, Luis Fruto scored with three minutes remaining to full-time to settle the stalemate.
Atalanta remain on third place with six points from five games, as the result saw the Italians waste a chance to overtake Villarreal who lost 0-2 to Manchester United earlier also on Tuesday evening.
United lead on 10 points three points ahead of Villarreal whereas Young Boys anchor the table on four points.
Statistics:
Scorers: Zapata 10 (A), Siebatcheu 39 (YB), Palomino 51 (A), Sierro 81 (YB), Hefti 84 (YB), Muriel 88 (A)
Young Boys: Faivre, Hefti, Burgy, Lauper, Garcia, Aebischer, Martins Pereira, Rieder (Sierro 67), Elia (Mambimbi 67), Siebatcheu (Kanga 89), Moumi Ngamaleu. Unused bench: Zbinden, Spielmann,Sulejmani, Jankewitz, Maier, Maceiras, Lustenberger, Toure. Coach: David Wagner.
Atalanta: Musso, Toloi, Demiral (Djimsiti 71), Palomino, Zappacosta (Pezzella 46), de Roon, Freuler (Pessina 78), Mæhle (Muriel 87), Malinovskyi, Pašalić (Koopmeiners 71), Zapata. Unused bench: Rossi, Sportiello, Scalvini, Miranchuk, Iličić, Piccoli. Coach: Gian Piero Gasperini.
Referee: Daniel Siebert (GER).