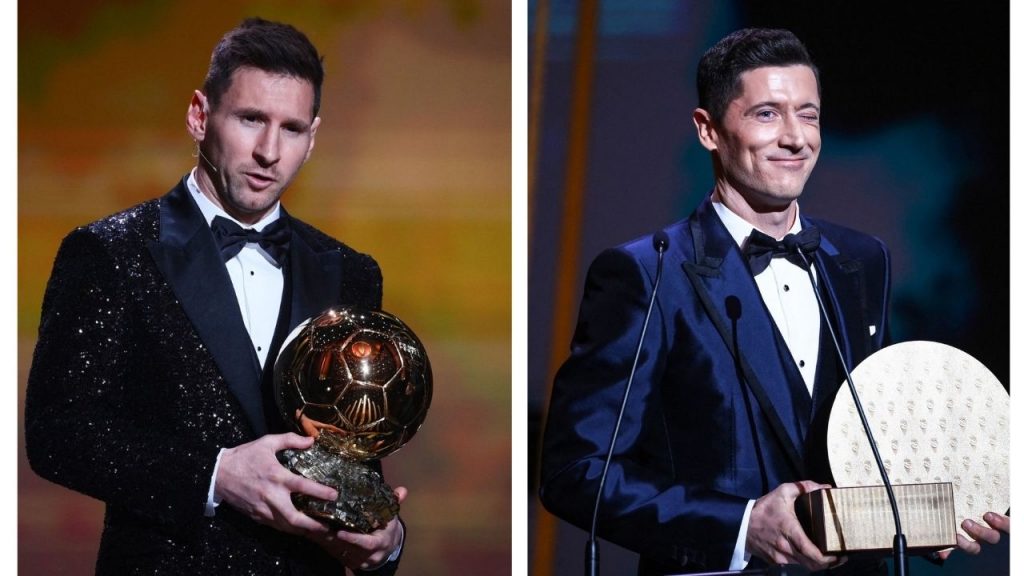 As Lionel Messi won the Ballon d'Or 2021, Africa Top Sports bring you the ranking of all the 30 players nominated for the top prize.
Messi finished on top of the race ahead of Bayern Munich star Robert Lewandowski.
Meanwhile, Chelsea and Italy midfielder Jorginho ranked third with his club winning the inaugural 'Club of the Year' award.
Read more : Ballon d'Or 2021 – Lionel Messi wins record seventh trophy
Ranking of the 30 players in Ballon d'Or 2021
1- Lionel Messi (PSG)
2- Robert Lewandowski (Bayern Munich)
3- Jorginho (Chelsea)
4- Karim Benzema (Real Madrid)
5- N'Golo Kanté (Chelsea)
6- Cristiano Ronaldo (Manchester United)
7- Mohamed Salah (Liverpool)
8- Kevin de Bruyne (Man City)
9- Kylian Mbappé (PSG)
10- Gianluigi Donnarumma (PSG)
11- Erling Haaland (Dortmund)
12- Romelu Lukaku (Chelsea)
13- Giorgio Chiellini (Juventus)
14- Leonardo Bonucci (Juventus)
15- Sterling (Manchester City)
16- Neymar Junior (PSG)
17- Luis Suarez (ATM)
18- Simon Kjaer (AC Milan)
19- Mason Mount (Chelsea)
20- Riyad Mahrez (Man City)
21- Bruno Fernandes (Man United)
21- Lautaro Martinez (Inter Milan)
23- Harry Kane (Tottenham)
24- Pedri Gonzalez (Barcelona)
25- Phillipe Foden (Man City)
26- Nicolo Barella (Inter Milan)
26- Ruben Diaz (Man City)
26- Gerard Moreno (Villarreal)
29- Luka Modric (Réal Madrid)
29- César Azpilicueta (Chelsea)