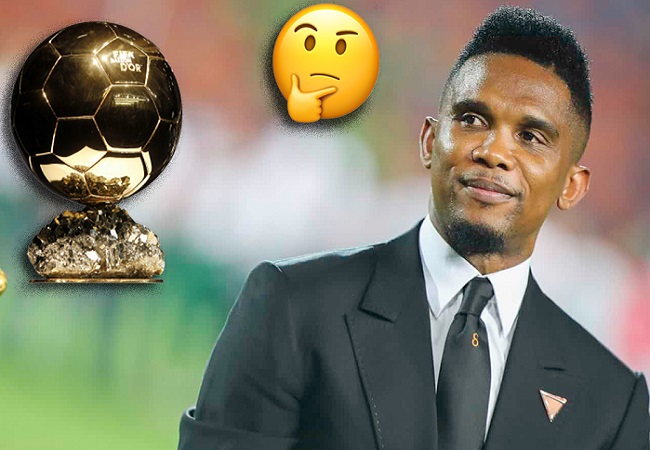 PSG star Lionel Messi pulled two clear of Cristiano Ronaldo by picking up his seventh Ballon d'Or on Monday. And his former Barcelona teammate Samuel Eto'o believes he knows who will follow the Argentina striker as the next player to dominate the Ballon d'Or for many years to come.
Also Read : BALLON D'OR 2021 : LIONEL MESSI WINS RECORD SEVENTH TROPHY
However, many in the football community believe the Argentina star was a tad fortunate to finish above the likes of Robert Lewandowski and Chelsea string-puller Jorginho.
Eto'o is backing Messi's current teammates at Paris Saint-Germain Kylian Mbappe to become the next Ballon d'Or great.
The 22-year-old only came in at a disappointing ninth place this time out. But Eto'o sees enough evidence that he'll be there or there abouts for perhaps a decade or more.
"He is there. And it has arrived at a good moment, in which Messi and Cristiano, the gods of football, are in the night of their careers due to age. And Mbappé is arriving." Said the Cameroon legend about Mbappe.
"I hope he will be the biggest for the next ten or 15 years. He has everything to be this unique player that soccer needs after these two monsters." Eto's said speaking to AS.
Eto'o gave a special mention to a number of players who he felt deserved the award for themselves. But he was still pleased to see his former clubmate Messi pick up a record-breaking seventh gong.
"Leo deserves everything that is beautiful in this world. So I am happy for him, for what he has contributed, what he contributes and what he will contribute. Now that he has the seventh, I hope the eighth comes.
"[Karim] Benzema and Lewandowski obviously deserved it. Mbappé deserved it. [N'Golo] Kante deserved it. Jorginho deserved it. But football is like that.
"Many of us think that we could be considered the [winner of the] Ballon d'Or. But then there are people who are there to choose. And we have to respect it."
The ex-Cameroon ace then admitted Messi was his tip to win the recent 2021 edition.