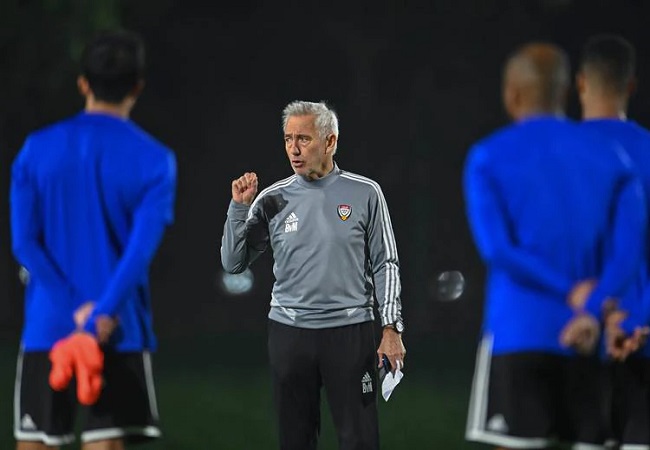 The United Arab Emirates would be targeting a convincing win and a spot in the quarter-finals of the FIFA Arab Cup 2021 when they take on Mauritania this Friday at Stadium 974 at 16:00GMT. 
Al Abyad saw off a determined fightback from Syria in their Group B opener. But Ali Saleh and Caio Canedo's goals were enough for the Emiratis to win 2-1.
Before the Arab Cup, the UAE had been on a poor run in the FIFA World Cup Qatar 2022 Asian qualifiers, managing just one win in their last five. Dutch coach Bert van Marwijk had called on his team to aim for the title while seeing the tournament as good preparation for the next World Cup qualifiers.
However, against a Mauritanian team who were thumped 5-1 by Tunisia in the opener, the Emiratis ranked 70th in the world are on paper the favourites against 123-ranked Mauritania.
Also Read : FIFA ARAB CUP 2021: TUNISIA RUN RIOT AGAINST MAURITANIA IN GROUP B
Striker Ali Saleh said the UAE stressed the importance of claiming all three points and must be wary of the Mauritanian threat despite their loss to Tunisia.
"We deal with all matches with the same interest and do not underestimate any opponent, regardless of their results in previous confrontations." Saleh said.
"All the players understand the importance of the match and the need to achieve a positive result."
The youngster who plays for UAE side Al Wasl also hailed the Emirati fans as a major source of encouragement for the players.
"The fans have supported us throughout the previous period. And they have not stopped encouraging us in all circumstances. We have to achieve results worthy of their support." He added.
For Mauritania, the football masterclass handed to them by Tunisia may be the jolt the team needs after a poor display.
However, coach Didier Gomes Da Rosa, who has only been in charge of the team for a few months, is not oblivious to the difference in class of his team to the top contenders after backlash from fans for their opening display.
"We do not have the capabilities of teams like Tunisia, Algeria, and Morocco. But we will try to perform well in the rest of the tournament." Gomes told the media on Thursday.
Striker Hemeya Tanji said despite a disappointing start, the team's target is to bounce back in the next two matches.
"It was a big disappointment after the big loss against Tunisia. And we will seek to return to winning in the next two matches. We are here to participate and win despite the absence of several important players. The absences will not affect our team." Tanji said.
"Of course, we have a new coach. And this is his first official match with the national team. However, we will try to do our best in the next matches."