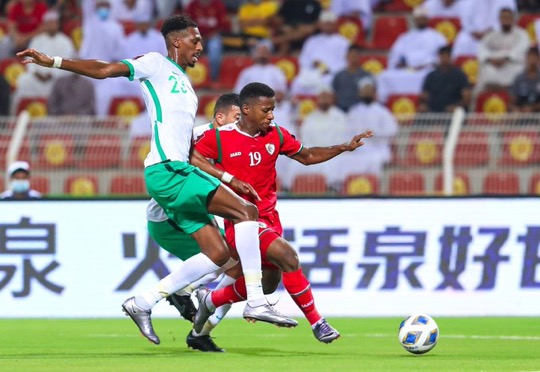 Oman thrashed Bahrain 3-0 at Ahmad Bin Ali Stadium on Monday evening to secure a quarterfinal berth of the Fifa Arab Cup underway in Qatar.
The win took Omani's tally to four points and their cause was helped by Qatar's beating of Iraq by a similar margin also on Monday evening.
Al Alawi Al Mandhar headed Oman in front with five minutes to half-time as they carried a slender lead going to break.
In the second half, Oman added the second goal when Al Alawi Arshad's header inside the area entered from the right side of the net.
Nine minutes later, Al Hajri Khalid registered the cushion goal when he fired into the net the third goal.
Oman joined Qatar, Morocco, Algeria, Tunisia and Egypt who clinched their places in the knockout phase of the tournament.
Lebanon and Sudan crashed out of the race after suffering back to back defeats in Group D.
Starting line-ups:
Oman: Al Mukhaini Ibrahim, Al Kaabi Ahmed, Al Habsi Juma, Al-Khamisi Ahmed, Al Harthi Amjad, Al Alawi Arshad, Abdullah Fawaz, Yahyaei Salaah, Al Saadi Harib (C), Al Harji Khalid, Al Alawi Al Mandhar
Coach: Branko IVANKOVIC
Bahrain: Sayed Mohamed (c), Sayed Mahdi, Waleed Alhayam, Sayed Dhiya, Sayed Redha, Mohamed Hardan, Abbas Alasfoor, Komail Alaswad, Ali Madan, Mohamed Marhoon, Mohamed Alromaihi
Coach: HÉLIO SOUSA.