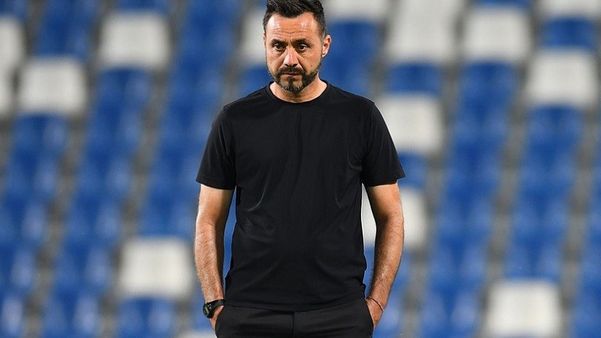 Shakthar Donetsk manager Roberto De Zerbi said it would field a strong side against Sheriff ahead of Tuesday UEFA Champions League game.
Shakthar are rocking bottom of Group D having failed to win any of their five games in the group.
The Ukrainian champions would be playing for pride in Tuesday's final group game against newcomers, Sherrif.
Speaking in a press conference, De Zerbi expressed disappointment over their poor performance and noted that the team would concentrate on winning the league.
He said, "There are several players who will appear neither Tuesday nor on Saturday.
" There'll be a very good starting lineup against Sheriff.
"That's an important match, just in case.
"We have so many young footballers who must show their progress through such games! I suppose you won't worry, tomorrow our starting XI will be very strong."
On their performance in the Europe elite club competition, he said;
"When we talk about European competitions, we mustn't forget that we started playing in Belgium.
" First we had matches against Genk, then against Monaco. We must also count these four games.
"In the Champions League group stage, we didn't get the result we wanted.
"But I warned you right away, even before the start, that we wouldn't be able to play as leaders or as I would like to.
"I believe that we can correct the mistakes of this season in the next one.
"Our footballers will also have more knowledge, so all together we will be able to play in a completely different way next season.
"And I think we can also take something from transfers to improve this team and play differently in the Champions League next year.
"And there will be no marks because when I was small I knew very, very little mathematics at school. I can't help you in this sense.
 
"Of course, no one wanted to leave the European competitions, but it so happened that we finished in the top spot in the group, so we don't continue our journey in Europe.
" On the positive side, we will have more time to work intensively all together, especially considering that the last time we did the same work all together was in late July.
"After that we started playing three times a week – with no opportunity to work intensively together.
"There will be such an opportunity in Antalya, we will be training hard.
"We must prepare in the right way because after the break, our goal is to win the Ukrainian league title and the Ukrainian Cup."
Shakthar lost to Sheriff in the opening Group D game in Moldova.