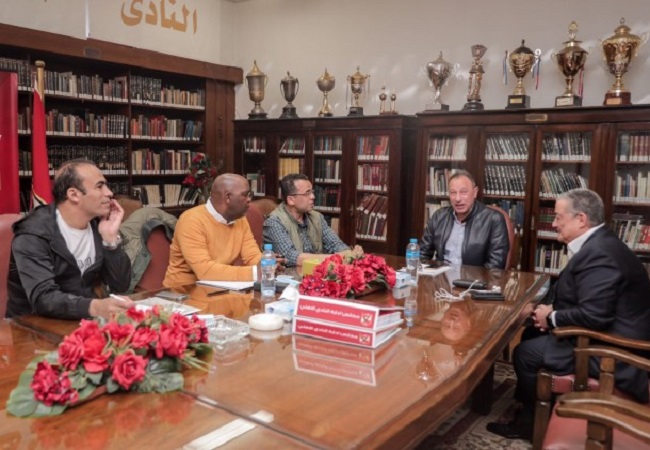 Club's head marketing and transfers Amir Tawfik has confirmed that Al Ahly management made a decision on the future of their current head coach Pitso Mosimane.Mosimane is currently into the last year of his two-year contract with the club.
While the club's President Mahmoud El Khatib confirmed that the 57-year-old will be staying put for the duration of his contract, there were doubts as to whether 'Jingles' would continue with the Egyptian giants beyond the expiry of his contract in 2022.
Also Read :  "ALL CRITICISM AGAINST MOSIMANE IS EXAGGERATED AND ILLOGICAL" – AL AHLY PRESIDENT
After all, in the last 10 years only one coach has been at the Red Eagles for more than two seasons, which was Hossam Al Badry, who was in his third stint with the club from 2016 to 2018.
Now, after a crunch meeting which took place on Tuesday, the club revealed that Mosimane will be the first coach since Manuel Jose to remain with the club beyond the two-year mark.
"The club wants Mosimane to continue leading the team." Tawfik told Egyptian website KingFut after the meeting.
"A longer contract increases the team's stability. There will be a meeting between club president Mahmoud El-Khatib and Pitso Mosimane to discuss the new contract at a later date." He added.
It is unclear when exactly Mosimane will be handed a new contract by the club.
Also Read : PITSO MOSIMANE REVEALED WHY HE INTENDS TO STAY AT THE HEAD OF AL AHLY
Mosimane has enjoyed a perfect start to the Egyptian Premier League this season, winning six out of his opening six matches, including a 5-3 win over reigning EPL Champions and fierce rivals, Zamalek.