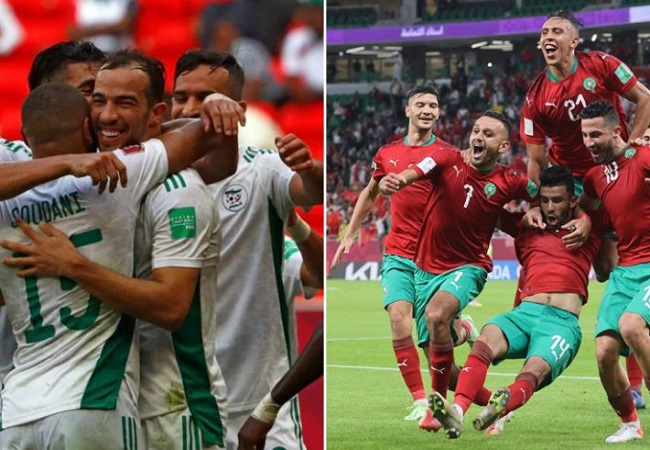 Algeria will be in clash against Morocco in Northern Africa derby on Saturday in the quarterfinals of the FIFA Arab Cup currently in in Qatar.
The group phase ended on Tuesday displaying teams that progressed to the quarterfinals. Fair play decided on group leader in Algeria-Egypt match (1-1), this Tuesday, December 7.
Also Read : FIFA ARAB CUP : OVERVIEW OF TEAMS THAT PROGRESSED TO THE QUARTERFINALS
The Atlas Lions will face the Fennecs (second in Group D) in the quarterfinals while the Pharaohs will take on Jordan. These two meetings to advance to the final four of the tournament will take place on Saturday, December 11.
Early on Friday, Tunisia will be in challenge against Oman while Qatar and the United Arab Emirates will lock horns for other two quarters.

Arab Cup quaterfinals fixtures

Friday 10 December (time in GMT)
3 pm : Tunisia – Oman

7pm : Qatar – United Arab Emirates

Saturday, December 11
3 pm : Egypt – Jordan

7pm : Morocco – Algeria