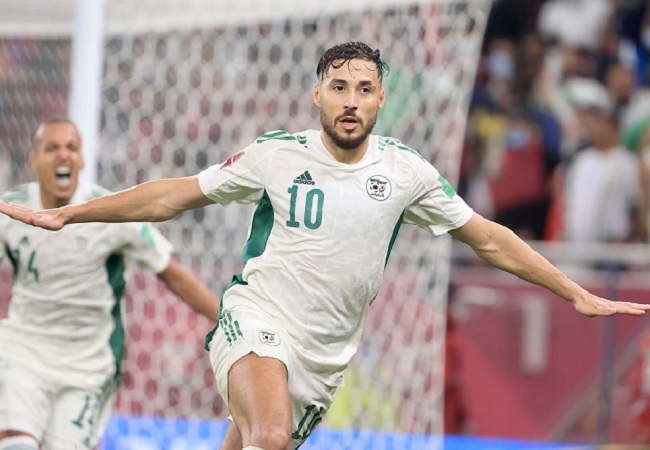 Algerian winger Youcef Belaili has had his contract terminated by Qatar Sports Club. This happened a day after he scored the goal which denied Qatar's national side a place in the final of the FIFA Arab Cup.
Algeria beat the 2022 World Cup hosts 2-1 on home soil, with Belaili's winner coming in dramatic circumstances.
Also Read : ALGERIA BEAT QATAR TO SET UP FINAL WITH FELLOW AFRICANS TUNISIA
Benlamri Djamel had given the African side the lead with an hour played, only for Mohammed Muntari to score a Qatari equaliser after seven minutes of stoppage time.
A lengthy VAR review followed Muntari's goal before it was eventually allowed to stand. Then, incredibly, Algeria were awarded a penalty in the 104th minute.
Belaili saw his initial shot saved by the goalkeeper but kept his cool to tuck away the rebound, sending Algeria through to face neighbours Tunisia in Saturday's final.
The following day it was announced that Belaili's contract with Qatar SC had been terminated, with the 29-year-old said to be poised for a move to Europe after the conclusion of the Arab Cup this weekend.
The development brings back memories of Ahn Jung-hwan, the South Korean who had his contract with Serie A side Perugia terminated after his goal eliminated Italy from the 2002 World Cup.
This time, however, it appears that, at least on the surface, there is no animosity from club or player. The timing of his departure is apparently nothing more than coincidence.
Qatar SC confirmed Belaili's contract had been terminated on Thurasday, with the player later expressing his thanks to the club and its supporters in a post shared on his Instagram.