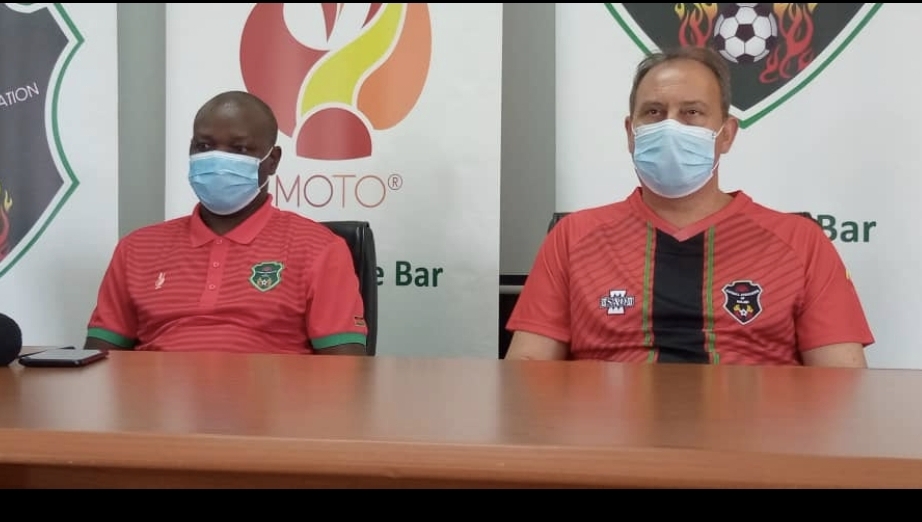 Malawi coach Mario Marinica has named a provisional 30-member Africa Cup of Nations (AFCON) squad, with some new call-ups and a shift in position for a key player.
The Romanian Marinica, who will lead the team to Cameroon next month following the demotion of local Meck Mwase, has shifted centre-back Charles Petro to midfield.
Additionally, Marinica, who observed that the Flames lack tall players in defence in goals, put second-choice goalkeeper Brighton Munthali on a 13-member stand-by list while opting for fourth-choice William Thole on the provisional list that includes Ernest Kakhobwe and debutant Charles Thom.
There is a recall of towering Nyasa Big Bullets defender Sankhani Mkandawire to the squad after a six-year absence.
Civil Sporting defender Lawrence Chaziya, Zebron Kalima of Silver Strikers and former Leeds United under-23 striker Henri Kumwenda have also earned first call-ups to the Flames.
Marinica told Football Association of Malawi website that he named the squad after monitoring performance in the World Cup qualifiers and the just-ended Airtel Top 8 which Bullets won after beating Silver 5-3 on post-match penalties.
"We know that this is a challenge but that's what we are here for," Marinica told FAM website.
"We looked at the squad that participated in the World Cup qualifiers, analysed their performances and noted that something has to be changed so that we have players that we can rely on at the AFCON Finals."
FAM hired Marinica as technical director last month but then announced he would take the team to AFCON after Mwase, who presided over the team's qualification, oversaw five defeats and one win the World Cup qualifiers.
FAM said it had made Marinica as head of the panel due to technical deficiencies noted in the quaifiers for the World Cup.
The Flames squad has since left for camp training in Saud Arabia where Marinica is expected to name his final 23-member squad after playing friendlies against Mali and Comoros on December 30 2021 and January 4 2022.
Full squad:
Goalkeepers
Ernest Kakhobwe (Nyasa Big Bullets), William Thole (Be Forward Wanderers), Charles Thom (Silver Strikers
Defenders
Limbikani Mzava (Amazulu), Dennis Chembezi (Polokwane City), Nickson Mwase, Mark Fodya (Silver Strikers), Sankhani Mkandawire, Gomezgani Chirwa (Nyasa Big Bullets), Lawrence Chaziya (Civo Sporting), Paul Ndlobvu (MAFCO), Stanley Sanudi, Peter Cholopi (Be Forwards Wanderers).
Midfielders
John Banda (UD Songo), Charles Petro (Sheriff Tiraspol), Chimwemwe Idana (Nyasa Big Bullets), Chikoti Chirwa (Red Lions), Micium Mhone (Blue Eagles), Gerald Phiri Junior (Al Hillal)
Wingers
Robin Ngalande (St George), Yamikani Chester (Be Forward Wanderers), Schumacher Kuwali (UD Songo), Fransisco Madinga (FC Dilla Gori), Peter Banda (Simba Sporting Club), Zebron Kalima (Silver Strikers).
Strikers
Richard Mbulu (Baroka FC), Khuda Muyaba (Polokwane City), Henry Kumwenda (Butler Bulldogs), Gabadinho Mhango (Orlando Pirates, Stain Davie (Silver Strikers).
Players on Stand-by
Richard Chipuwa, Clever Mkungula, Nickson Nyasulu, Blessings Mpokera, Alick Lungu, Norchard Chimbalanga, Blessings Tembo, Tawonga Chimodzi, Loyd Njaliwa, Misheck Selemani, Mike Mkwate, Hassan Kajoke and Vincent Nyangulu