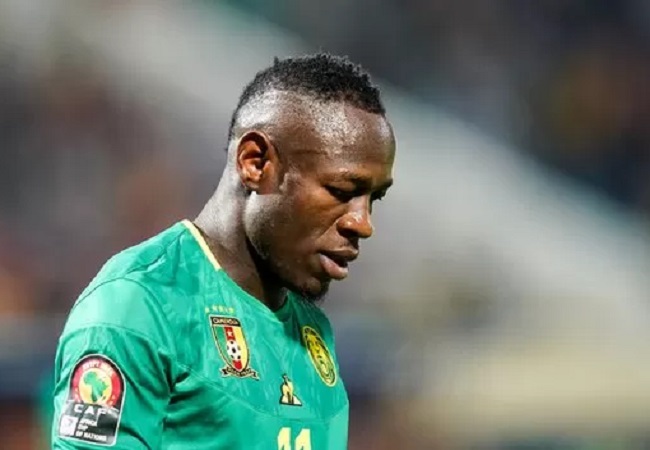 The African Cup of Nations will kick off on January 9 with the hosts Cameroon taking on Burkina Faso. But the five-time winners' preparations for the month-long tournament have been hit after four players from their squad tested positive for COVID-19 in the latest screening.
This could not put the Lions in mood for celebrations, as the event came amid sudden and growing concerns that the fast-spreading Omicron variant could cause major disruptions.
Also Read : ARSENAL LEGEND IAN WRIGHT SLAMS DISRESPECT OF AFCON

According to multiple media outlets, Shanghai Shenhua striker Christian Bassogog, Olympiacos midfielder Pierre Kunde, Gent defender Michael Ngadeu-Ngadjui and Akwa United goalkeeper Jean Efala Konguep have already gone into quarantine after instructions from health officials.
The news comes as defending champions Algeria, who play Sierra Leone, Equatorial Guinea and Cote d'Ivoire in the group stage, are also suffering a coronavirus blow.

Earlier, another title favorite Cote d'Ivoire announced that several Europe-based players had tested positive upon their arrival with the national squad, but they didn't disclose their identities.
Meanwhile, Barcelona announced that their Moroccan prospect Abde Ezzalzouli was in isolation after testing positive for the virus.
Read More : COVID-19 OUTBREAKS THREATEN AFRICAN TEAMS AHEAD OF 2022 AFCON
The European Club Association has expressed "deep concerns" about whether players would be safe at Africa's football showpiece, which was originally scheduled to be played last summer. But the competition was postponed due to the pandemic.  
Also Read : EUROPEAN CLUB ASSOCIATION THREATENS NOT TO RELEASE PLAYERS FOR AFRICA CUP OF NATIONS

However, Confederation of African Football (CAF) president Patrice Motsepe has been bullish, insisting the first African Cup in the pandemic era will go ahead smoothly.
Also Read :  "I DON'T SEE A CONVINCING REASON TO POSTPONE THE AFCON" – SAMUEL ETO'O
"We have to have confidence and belief in ourselves as Africans. And we have to have confidence and belief that we can host a very successful Nations Cup in Cameroon." Said CAF President.