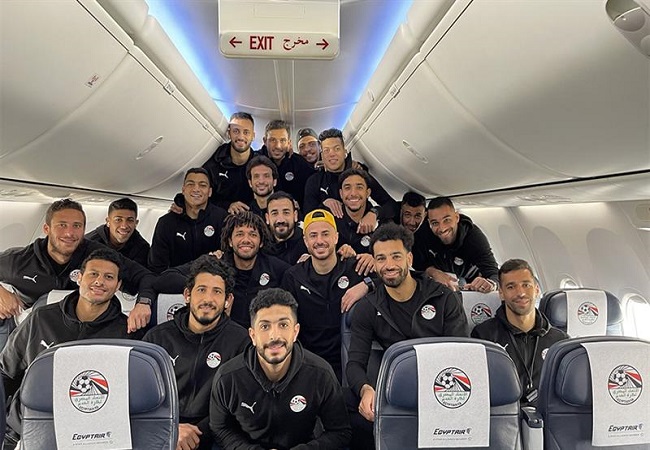 As rescheduled, Egypt's national football team flew to Cameroon on Saturday morning for the 2022 African Cup of Nations (AFCON) that kicks off on Sunday.
Also read : EGYPT CANCELLED TRAINING WITH DR CONGO AND DELAYED FLIGHT TO CAMEROON UNTIL SATURDAY
The seven-time African champions will be playing in Group D alongside Nigeria, Sudan and Guinea Bissau. The Pharaohs will begin their 2022 AFCON campaign with a clash against the Nigerian Super Eagles on 11 January.
Also Read : MOHAMED SALAH PROMISES AN 8TH AFRICAN TITLE TO FANS AS HE JOINS TRAINING CAMP
According to a statement by the Egyptian Football Association (EFA), the 26-man squad includes Smouha striker Marwan Hamdy who was called up from the backup list.
Also Read : AFCON 2022 : VENUES, FULL SCHEDULE AND KICK-OFF TIMES
Also Enppi's defender Marwan Dawoud will be heading to Cameroon after being called by coach Carlos Queiroz late on Friday as a replacement for Pyramids FC's injured left-back Mohamed Hamdy.
Meanwhile, goalkeeper Mohamed Abo Gabal and goalkeepers' coach Essam El-Hadary, who have tested positive for COVID-19 on Friday, will be joining the team later in Cameroon once they recover according to the EFA's statement.
Aldo Read : AFCON : COVID, INJURY HITS EGYPT CAMP AHEAD OF OPENER AGAINST NIGERIA
The Pharaohs will try their first training session in Cameroon on Sunday morning.