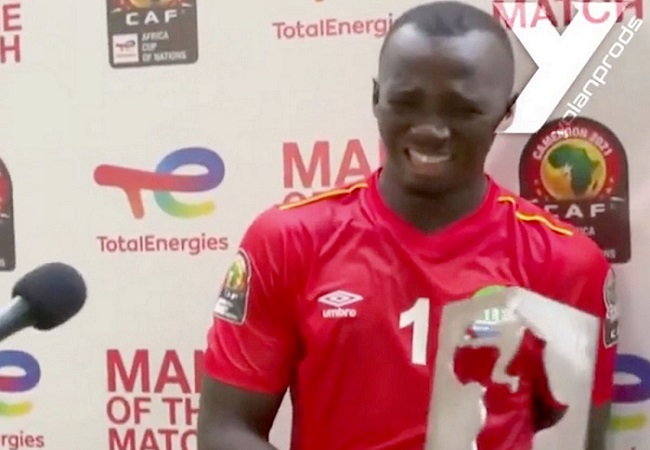 Sierra Leone held African champions Algeria 0-0 in their 2022 Africa Cup of Nations (AFCON) opener on Tuesday. The performance of goalkeeper Mohamed Kamara was full of determination and grit as he kept out Manchester City forward Riyad Mahrez on a number of occasions in the Group E tie.
Also Read : SIERRA LEONE FRUSTRATE AFRICA CHAMPIONS ALGERIA TO GOALLESS DRAW
For his spectacular performance against Algeria, Kamara was named the Man Of The Match. And the young goalkeeper broke down in tears after receiving his award.
While the 22-year-old's style is somewhat unorthodox, the shot-stopper made a series of impressive saves throughout the match.
In heartwarming scenes, the East End Lions goalkeeper was visibly emotional before breaking down in tears as it became clear what it meant to him.
As he struggled to hold back the tears, a reassuring voice in the background said: "It's ok, it's ok, it's alright."
Kamara's outstanding performance against the Greens even received recognition from Sierra Leone's president, Julias Maada Bio, who posted a message on social media congratulating the goalkeeper.
"We are very proud of you, our Leone Stars. Man of the Match, Mohamed Kamara, you and the team gave the defending champions a great run. Together, we will make our roar heard across Africa and bring the cup home!" He said.
Having made seven saves, the 22-year-old was vital in helping Sierra Leone to secure a point in their first AFCON match since 1996, as well as preventing Algeria from scoring for the first time in 36 matches.