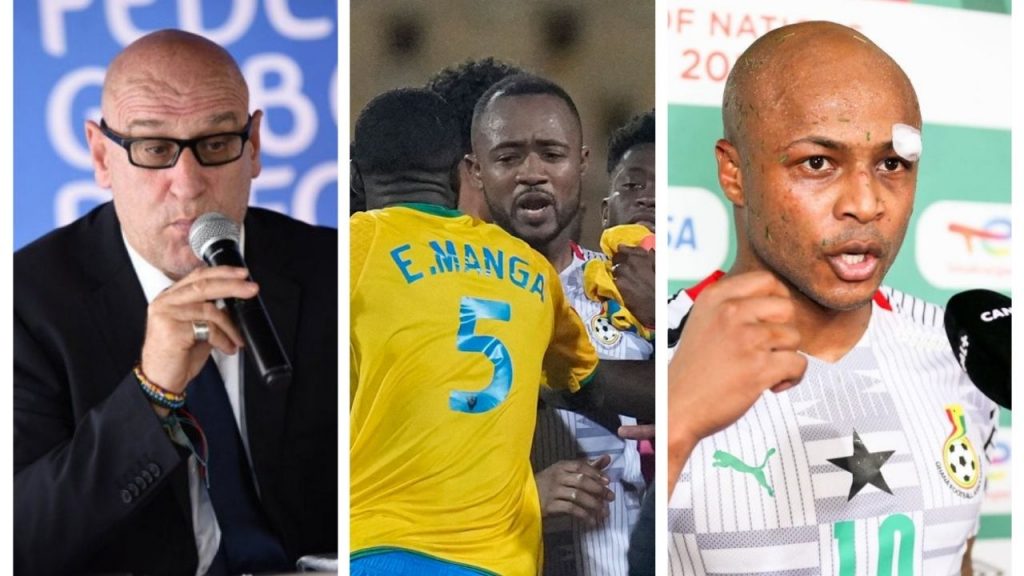 Gabon head coach Patrice Neveu has responded to Ghana Black Stars captain Andre Ayew who slammed his players as small ones for their un-fairplay attitude.
The Gabon vs Ghana clash ended in a huge brawl on Friday night following Panthers' late equalizer.
Black Stars were expecting Gabon players to give them back the ball after they kicked it out as one of their teammates was on the floor.
However, Denis Bouanga and teammates played the ball between themselves and that action led to the equalizer of Jim Allevinah.
Read more : AFCON 2021 – Andre Ayew mocks 'brand of small Gabon players' after frustrating draw
After the game, Andre Ayew called them "brand of small players" during his post-match reaction to French TV Channel Canal+.
Speaking on the incident, Gabon head coach reacted with humour to Black Stars' skipper saying the fair play meant Ghanaians should have not wasted time when knowing they were leading as the game end approached.
"The word Fair Play is an English word. We don't have this word in French. Before you (Ghana) lecture me about Fair Play, you (Ghana) were involved in so many instances that do not show that you were practicing it exactly", Neveu replied in his post-match press conference.
"Fair Play means Ghana should've stopped trying to waste time and breaking the game. Don't come and preach me on Fair Play. We saw a chance and we took it", he added.