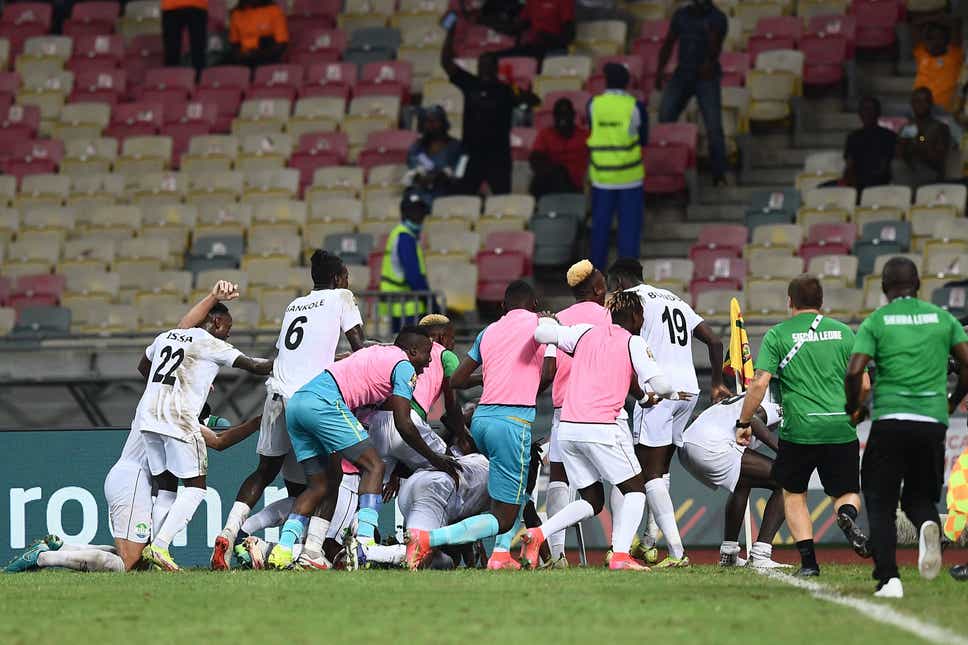 Feel free to call Sierra Leone giant troublers of this Africa Cup of Nations (AFCON) finals underway in Cameroon.
The North Africa minnows earned that status after holding Ivory Coast to a two-all draw on Sunday evening.
It was the second giant that Sierra Leone had denied maximum points at AFCON after also frustrating Algeria to a goalless draw last week.
On Sunday, Sierra Leone came from behind twice to hold Ivory Coast in a drama-filled Group E AFCON) contest.
The game saw the Ivorians feature defender Sergie Aurier in goals in added time following the injury of goalkeeper Badra Ali Sangare.
That was deep into added time when the Ivorians had completed making all their substitutions and Sierra Leone had just benefited from Sangare's howler to level matters.
Sangare had dropped the ball just as it was about to cross the line allowing Al Hadji Kamara to swept the loose ball into the net.
Al Hadji's goal erased the lead Ivory Coast had regained through Arsenal winger Nicolas Pepe's low effort into the bottom left corner in the 66th minute.
Pepe put Ivory Coast back into the game after Sierra Leone had levelled matters through Musa Kamara's stupendous turn- and-shoot effort in the 55th minute when the Ivorians Eric Bailly defence went to sleep once again.
The Manchester United man Bailly left the pitch injured.
All seemed well for the Ivorians who scored first through UEFA Champions League leading scorer Sebastian Haller's low volley that deceived goalkeeper Kamara in the 25th minute.
The Sierra Leone keeper conceded minutes after he had dived right to deny Franck Kessie from the penalty spot after Crystal Palace star Wilfred Zaha was fouled by Sierra Leone defender while charging in the box.
The drama was reserved for the second half when the Ivorians connived to fluff countless scoring chances thereby allowing Sierra Leone back into the contest.
Ivory Coast lead the group on four points from two games whereas Sierra Leone were, before another game for the group, on second place with two points.
Line-Ups:
Ivory Coast: Sangare, Sergie Aurier, Eric Bailly, Simon Deli, G. Konan, Ibrahim Sangare, J. Seri,  I.Sangare, F. Kessie, Nicolas Pepe, Sebastian Haller
Sierra Leone: M. Kamara, K.Wright, Caulker, U. Bangura, Kakay, J. Kamara, K.Quee, K. Kamara, J. Kamara Buya Turay, M.N Kamara