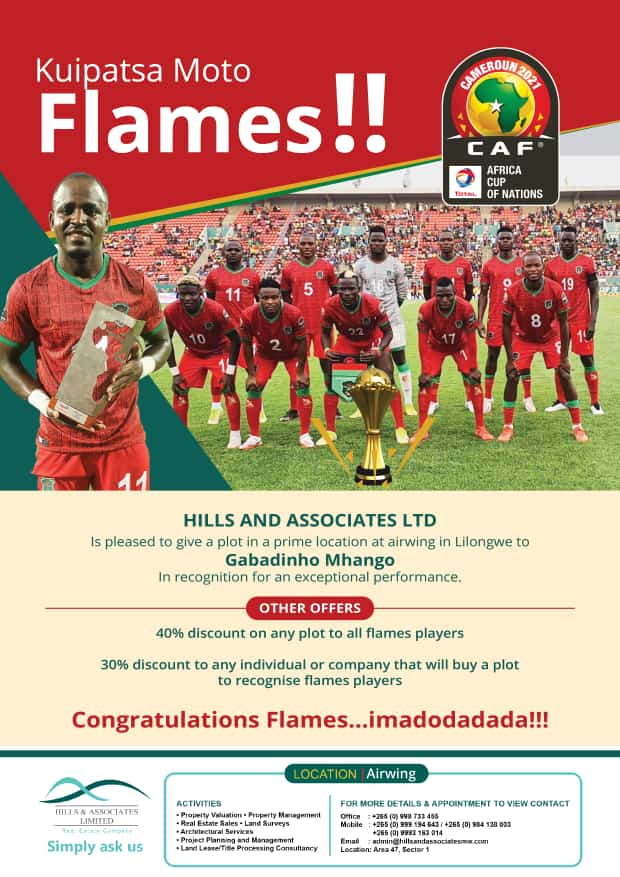 Malawi's two-goal hero Hellings Frank Gabadinho Mhango has been rewarded with a piece of land in the capital Lilongwe, following his exploits at the Africa Cup of Nations (AFCON) finals in Cameroon on Friday.
Lilongwe-based real estate company, Hills and Associates Limited, has further offered the rest of the Flames players a 40 percent discount on any preferred piece of land which the firm owns as a reward for the 2-1 come-from-behind win over Zimbabwe.
The company rewarded the Orlando Pirates striker, who is simply called Gabadinho Mhango, after he scored in either half on his AFCON debut in the win over the Warriors in the Group B match.
"Hills and Associates LTD is pleased to give a plot in prime location at airwing in Lilongwe to Gabadinho Mhango in recognition for an exceptional performance. Other offers: 40 % discount on any plot to all Flames players. 30% discount to any individual or company that will buy a plot to recognize Flames players," the company wrote on a flyer that has gone viral in Malawi.
The win revived the Flames' chances of qualifying for the knockout stages after, in Gabadinho's absence, started the campaign with a 1-0 loss to Guinea on January 10.
Another company, Kelfoods, has also offered to eggs to the Flames players if they beat Senegal on Tuesday.
"If the Flames win against Senegal, Kelfoods will be giving a tray of Donna's eggs to each of the players every month for the whole year," the company wrote on facebook.
However, a football fan Auspicious Ndamuwa has condemned the fans' gesture saying it could distract the Flames players ahead of their crucial must-win game against Senegal on Tuesday.
"I find it nonsense to make monetary rewards, piece of land etc only to the goal scorer. This is a time bomb ready to explode in our face. I foresee a dismal performance in our next game because every player including the goalkeeper would want to score," Ndamuwa texted.
Senegal lead the group on four points at par with Guinea followed by Malawi on third place with three points and Zimbabwe bottom without a point.