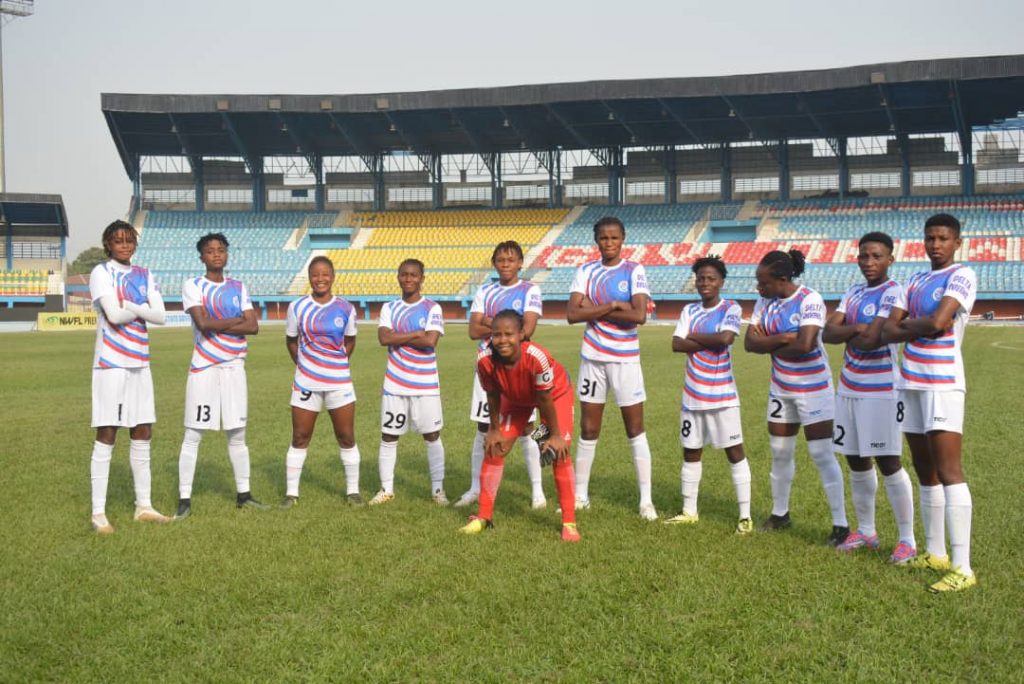 COMMENDS TONOBOK OKOWA FOR IMPROVED WELFARE
Nigerian Women Football League, NWFL, Premiership side Delta Queens FC has assured of the teams preparedness to kick start the league race for 2022 ahead of their game against FC Robo.
Delta Queens will be hoping to begin the year on a winning note when they take on the Lagos based-club in Wednesday's NWFL fixtures.
According to the club's chief executive officer, Henrrientta Ehiabor, all had been on ground for a solid come back for the season and the coach Daniel Evumena tutored side is battle ready as they open the competition this year with an away fixture against FC Robo of Lagos.
She commended the huge moral and financial support from the Chief Tonobok Okowa led Sports Commission, saying the team will reciprocate with positive results as the team targets a top three finish in group B in the ongoing female abridged league to be among the top six teams for the season.
"The camp has been bubbling since Sunday January 2nd when Players and Officials returned for the continuation of the season "
" It was not a totally bad outing in the first lap before the yelutide but the team will surely double up in its effort to make the first three in Group B and subsequently a Super 6 placement."
We are however taking it one step at a time and must said a very big thank you to the Executive Chairman, Delta State Sports Commission, Chief Tonobok Okowa for his Professional commitment and fatherly concerned he had always shown to the team.
For her part, the captain of the Delta based side, Ihuoma Onuegbu in a media chat with on air personality and media officer Delta Queens, Oris Esima-Aniretan, was full of praises for the Chairman Delta States Sports Commission, Chief Tonobok Okowa, whom she said had intervened promptly in improving the welfare of the team as allowances and bonuses have been paid up to date.
"We are starting the year in a high spirit and are committed to bringing out result "
If nothing else, we own it to our able Daddy and sports Commission chairman who has deepest it fit to make us smile at this time"
His intervention is very apt and timely and we promise to reciprocate."
The Pearls went on a break for the festive season after garnering 5 points from 3 games against Rivers Angels, Bayelsa Queens and Sunshine star FC.
Delta Queens faces FC Robo on Wednesday January 19, in an away match day 4 encounter.
The last time the two sides met was during the Super 6 outing at Ijebu Ode in 2021 and the encounter ended in a draw.