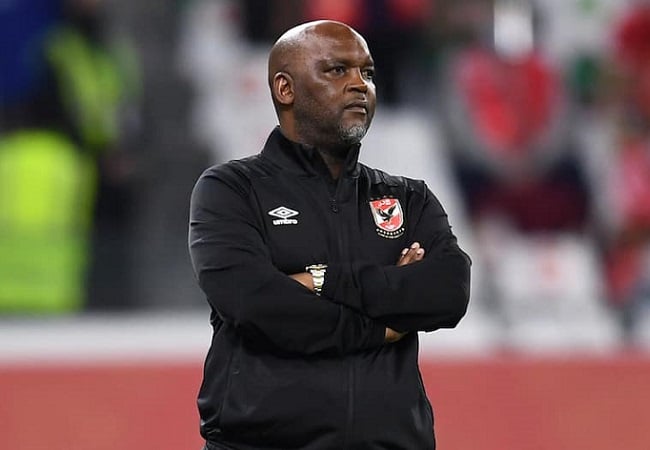 Pitso Mosimane is in the last year of his contract with the Egyptian Premier League giants Al Ahly. And the South African tactician was expecting to have his future secured before jetting out to Qatar where he is set to compete in his second consecutive FIFA Club World Cup.
However, the latest comments by the club's director of football, Sayed Abdelhafiz have put the coach's future at the club in doubt.
Also Read : AL AHLY FINALLY DECIDE TO KEEP PITSO MOSIMANE AT THE HEAD OF THE CLUB
The 57-year-old coach has been in the thick of things in recent times with his comments about his contract negotiations, reportedly upsetting the club's board as reported by the Siya crew.
However, a spanner has been thrown into the works after Abdelhafiz's ambiguous answer when quizzed about the coach's future at the club on Monday.
Also Read : AHMED SHOBEIR REVEALED REAL REASONS BEHIND CONTRACT STALEMATE BETWEEN PITSO MOSIMANE AND AL AHLY
"Al Ahly were very successful under Mosimane. Frankly, he deserves something great. Because he won a lot of titles. It's true that the way Al Ahly is run helps any individual who comes to work here. But it's important that Mosimane gets what he deserves." Abdelhafiz told MBC Masr TV.
"Al Ahly has a method and policy in negotiations. The two parties succeeded together, whether Mosimane continues with Al Ahly or not. There will certainly be a clear and explicit agreement that will be announced at the proper time." Continued the Director.
The former Egyptian national team player said that it is likely that Mosimane will see out his contract at the club until the end of the season, although it is still unclear whether he will continue beyond that.
"According to his contract, whether he decides to continue or he leave, he will remain until the end of the season. As for what is rumoured about his departure in the current period, it doesn't make sense for us criticize something and then do it.
"The main takeaway is that Mosimane achieved a lot with the club, whether he stays or not." He concluded.