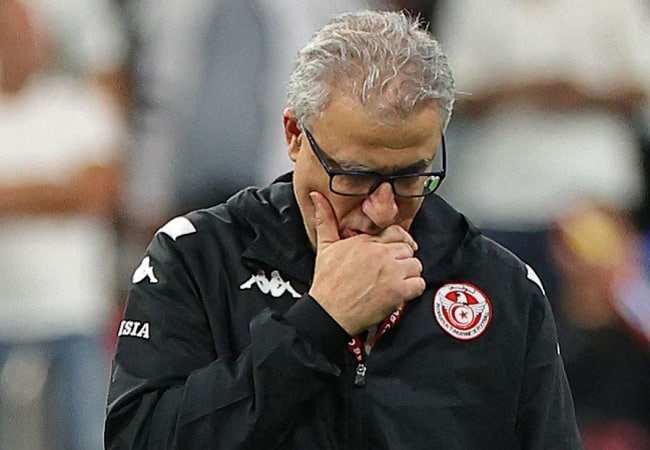 The Tunisian Football Federation has decided to put an end to the adventure of Mondher Kebaier at the head of the national selection since 2019.
After their disappointing campaign, the Tunisia FA have decided to part ways with coach Kabaier after losing to Burkina Faso in 2022 AFCON quarter-final. And his assistant and former Al Ahli Tripoli head coach Jalel Kadri will take over the job.
Also Read : DANGO GOAL SENDS BURKINA FASO THROUGH TO SEMI-FINAL
"It has been decided to terminate the contractual relationship with Mr. Mondher Kebaier and appoint Mr. Jalel Kadri as his successor. By the way, we thank Mr. Mondher Kebaier for his efforts during his time as head of the national team, and wish him all the best in his coaching career. We also wish the best to Mr. Jalel Kadri in his new job." Read FTF statement.
Despite being handed a relatively easy group, which was consisted of Mali, Mauritania and first-timers Gambia, Tunisia still finished third in their group. They were foiur points behind debutant gambia.
Luckily, the Carthage Eagles managed to qualify to the round of 16 after being among the top four third-placed teams. And they were pitted against Group D leaders Nigeria.
The Carthage Eagles went on to surprisingly beat the Super Eagles 1-0 thanks to a goal from Youssef Msakni, booking a spot in the quarterfinals against Burkina Faso.
Tunisia were outplayed by The Stallions for the majority of the 90 minutes, and eventually lost 1-0 after a goal from Dango Ouattara.
Kadri will have the heavy task of guiding Tunisia to the 2022 World Cup, when they face Mali in a two-legged playoff match next March in the final round of the World Cup qualifiers.