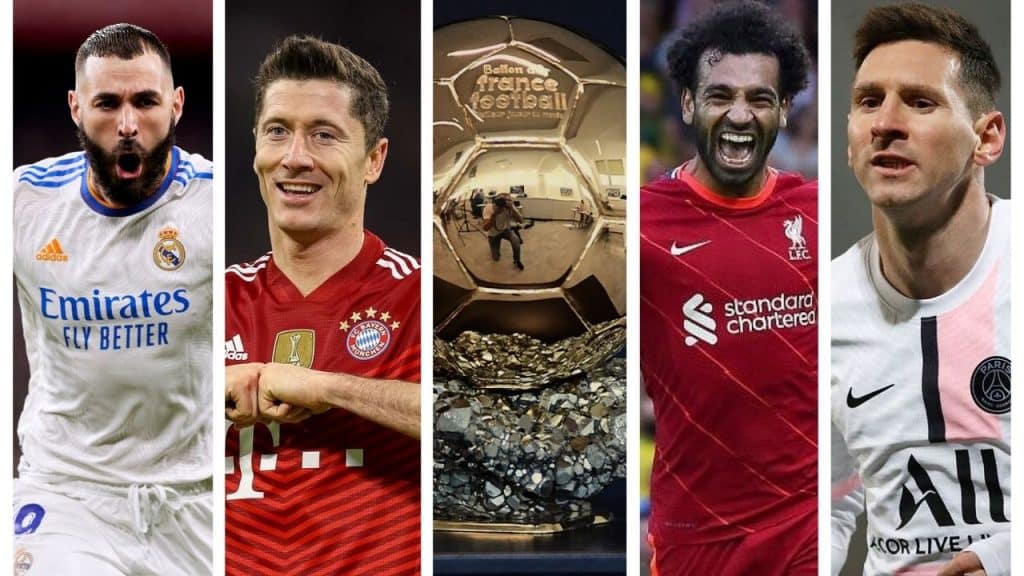 After Lionel Messi's triumph in 2021, the race is already engaged for Ballon d'Or 2022 with some players the mikes of Mohamed Salah and Robert Lewandowski making progress towards the highly-coveted prize.
Who will be the winner of Ballon d'Or 2022? It may be too earlier to answer this question but players' performances are giving us some indications.
German website OneFootball revealed their Top 20 ranking of the favourites to claim the France Football Award this year and it's pretty impressive.
Read more : Mendy – 'I told Gabaski he's AFCON 2021 best goalkeeper'
Despite losing AFCON 2021 trophy to Liverpool teammate Sadio Mane, Mohamed Salah is on top of the ranking.
The Egyptian 'king' has 23 goals and 9 assists to his name in 26 appearances across all competitions this season with the Reds.
The former AS Roma star is followed by last year's runner-up Robert Lewandowski who continues to shine with Bayern Munich.
The Polish striker netted already 33 goals and 3 assists in 27 games with the Bundesliga champions in this ongoing season and is a serious candidate to claim the prize.
Below is the Ranking of Ballon d'Or 2022 favourites
20- Thomas Müller
19- Dusan Vlahovic
18- Pedri
17- Vinicius Junior
16. N'Golo Kanté
15- Jorginho
14- Harry Kane
13- Raheem Sterling
12- Neymar
11- Bernardo Silva
10- Phil Foden
9- Sadio Mane
8- Kevin De Bruyne
7- Erling Haaland
6- Cristiano Ronaldo
5- Karim Benzema
4- Kylian Mbappe
3- Lionel Messi
2- Robert Lewandowski
1- Mohamed Salah