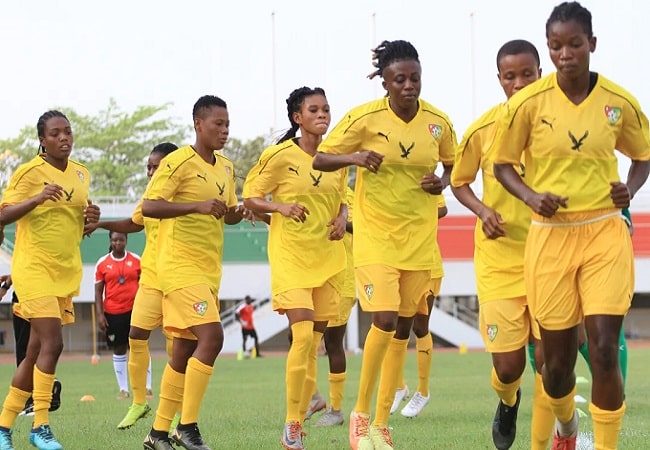 For the first time in the history in women's football, Togo are on the way to qualify for the Women's Africa Cup of Nations (WAFCON) finals. Led by Kaï Tomety, the Sparrowhawks Ladies are so close to qualification for the high mass of continental football among the ladies when they take on Gabon in a double header.
In camp for a few days, Togo women's national team is sharpening its weapons. The coach recalled her best weapons. Despite a lack of championship, Togo qualified brilliantly in the first round with a 5-0 inflicted on Sao Tomé (first leg) before the island withdrew for the second leg.
Also Read : SAO TOME LOST 5-0 TO TOGO AT HOME IN 2022 AWCON QUALIFIERS
Talented players from the best women's team in the country, Amis du Monde FC are the backbones of the squad. However, 5 international players including Odette Gnimtema and Amira N'Djambara who play for Raja Ain Harrouda (Morocco), Bagnim Dialou from Racing Club de Saint Denis in France, Yaya Tekyatou from Ilkadim Belediyesi (Turkey) and Mafille Woedikou, striker from Yzeure Allier Auvergne in the French second division are the driving force the team.
Unfortunately for Tomety, the latter will not be able to play against Gabon due to a suspension for a red card.
In a press conference, the coach beleives that the Panthers of Gabon are "not an extraordinary team". However, the Togolese technician does not hide that her team must always improve to overcome their opponents who eliminated Congo in the previous round. The double confrontation promises to be thrilling. Gabon also swear by a first qualification for the Women's AFCON.
For several days, the Sparrowhawks ladies have been training to be ready for D-Day. In a country where women's football is still at grassroots level, qualifying for the WAFCON could well be a game-changer.
"We will do everything to snatch the qualification." Promised the coach.
The Sparrowhawks ladies will host the Panthers Ladies on February 17 in Lomé. Tomety and team will travel to Libreville on February 23 for the decider.