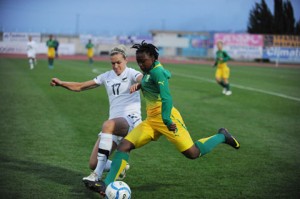 South Africa senior women's football team coach Desiree Ellis has urged Banyana Banyana to use home ground advantage when facing unpredictable Algeria in Johannesburg on Friday.
Ellis commented on the Africa Women's Cup of Nations (AWCON) qualifying match against Algeria in an interview with the South African Football Association media team on Thursday.
She said her coaching panel had done enough to prepare Banyana Banyana it was now up to the players to execute the plan.
"Of course, leading up to this, most of preparation was done, so we have worked on a couple of things [now] it is all up to the players tomorrow," Ellis said.
She said Banyana Banyana need to get the business done in the first leg in order to make life easier on the road on February 23.
"We are used to this weather even though a lot of our players come from Europe. I know a lot of their players come from Europe as well even though it's a bit hot, we have got to take advantage of this situation of playing at home and make sure we get a positive result and make the second leg easier," she said.
Ellis described Algeria as one of the giants of women's football and would be determined to get a positive result on the road.
"I know it is not going to be an easy game," she said.
"I don't think you need motivation to play against us, so they will be up for it, so we also have to be up for it.
"We know it is not going to be easy. Algeria have shown that they are a power in football on the African continent so we cannot take them lightly. We keep repeating this message [to the players]."
Meanwhile, Algeria coach Radia Fertoul was expected to arrive in Johannesburg on Wednesday with 23 players, including defender Armelle Khellas (ASPTT Albi, France) and striker Inès Boutaleb (FC Metz, France).
The overall winner over the two legs will qualify for the AWCON finals that will run from July 2 to 23 in Morocco.
The women's AFCON will also serve as the African qualifiers for the Women's World Cup which Australia and New Zealand will co-host next year.