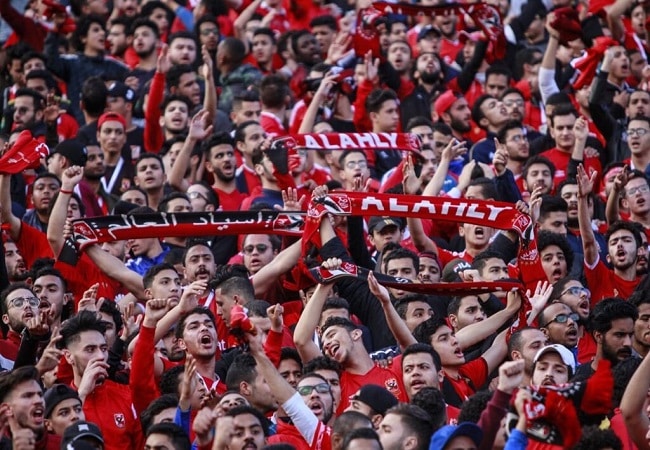 Al Ahly and Sundowns will be clashing next Saturday for Caf Champions League Group A match. The game is set to kick off at 19:00 GMT in Al Salam Stadium. And for how crucial the meeting is for Al Ahly, the Egyptian giants are seeking permission to have supporters to attend the game.
"We are speaking with Caf and the [Egyptian] security authorities to request fan attendance in the Al Ahly and Sundowns match." Ahly executive director Saad Shalaby said.
The game between Group A's heavyweights is likely to settle the No 1 position, which can make for a relatively easier quarterfinal matchup, depending on how the other groups work out.
So far the Sudanese duo in Group A have proved hard to beat.
Sundowns have remained in Cairo, where they were held on Saturday to a 0-0 draw by Sudan's Al-Merrikh at Al Salam Stadium, the home ground of Pitso Mosimane's Al Ahly. Sundowns started with a 1-0 win against Merrikh's Omdurman rivals Al-Hilal in Rustenburg. And they will be playing their third match against Ahly.
The Cairo giants' start in the Champions League was delayed by winning bronze at the Fifa Club World Cup in Abu Dhabi. And the Reds have played one match, drawing 0-0 away against Al-Hilal on Friday.
Mosimane, meanwhile, has Mohamed El Shenawy in the club's comfortable win over Makkasa on Tuesday. The first-choice  goalkeeper was back from hamstring injury that kept the talismanic goalkeeper out of Egypt's 2022 Africa Cup of Nations (AFCON) final defeat to Senegal in Cameroon.
Also read : HUGE BOOST FOR AL AHLY AHEAD OF MAMELODI SUNDOWNS CAF CHAMPIONS LEAGUE CLASH
Al Ahly football director Sayed Abdelhafiz addressed the absences during his statement to Al Ahly TV channel after yesterday's victory.
"The coaching staff had to rest a number of players during El-Makkasa games, Ali Maaloul and Mohamed Abdelmoneim needed the time off the pitch." Sayed said.
Also read : AL AHLY RESUMED EGYPTIAN PREMIER LEAGUE WITH COMFORTABLE WIN
"We have four important games against Sundowns and Al-Merreikh in the Champions League. We need our players to be ready by then.
"Even the best players in the world are benched when the coaching staff decides it.
"We have the motive to go for the third consecutive CAF Champions League title. No one has ever done it before.
"Percy Tau is 95% percent ready for Sundowns game. We decided to rest him in El-Makkasa game to make sure he's fit for Sundowns clash.
"On the other hand, Ayman Ashraf will probably not be able to participate. But Abdelmoneim and Maaloul are ready."