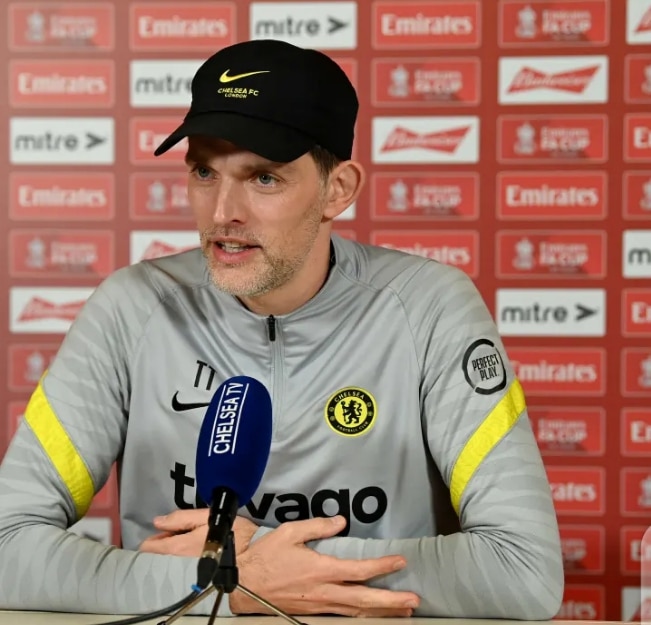 Thomas Tuchel has revealed that some of his key players will not be available for Wednesday's FA Cup fifth round tie against Luton Town.
The Blues were stretched to 120 minutes on Sunday in the final of the Carabao Cup were they lost 10-11 to Liverpool.
The game saw James Reece make his return to the pitch after a two month injury kept him from action.
Tuchel was speaking at his pre-match press conference via video link from Cobham shortly after training in the Surrey drizzle at the club training base.
He also gave update on Hakim Ziyech who missed the Carabao Cup final against Liverpool.
On his players fitness ahead of the game, Tuchel said:
"The situation was very good before the final because we had only Ben Chilwell out but the situation changed dramatically,' he said of our squad fitness.
"We have a lot of players with physical overloads and we have some injuries from the match.
"It's actually too much to comment about. It would be a long list so we need to see.
"We had training today, the physios and doctors are still working with the players and finding out.
"We can take the last decisions tomorrow morning when we have the departure to Luton and see who's ready to play.'
On James return to action the former PSG manager said the player was on brilliant form against Liverpool.
"He was on brilliant form but now with a huge overload on his shoulders.
"The recommendation was 20 minutes before the match and it was over 70 minutes in a final with extra tension and pressure.
"Hakim is not available for tomorrow as he was not available for the final unfortunately,' Tuchel continued on Ziyech.
"He still feels uncomfortable and was not in team training today so he's one of the guys who will miss the game tomorrow.'
The boss was also asked about Mason Mount's mentality after the midfielder spurned some of our best opportunities in the final, though he insisted the England international was feeling fine despite the obvious disappointment.
"Nobody deserves the blame for missing a chance,' he added.
"I can clearly understand that one person did not want to miss the chance the very most and this is Mason.
"You can be sure about that but it can happen because not every chance is a goal.
"We had huge chances and Mason had huge chances to decide the match for us but he is fine.
"He did a strong match, he was in these situations and he arrived in good timing and good positions.
"That's exactly what we wanted but we just missed a bit of luck."