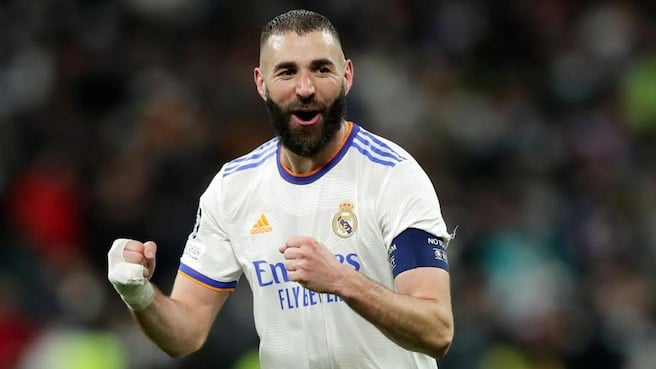 Real Madrid forward Karim Benzema once again etched his name on the history book of the the UEFA Champions League following his hat trick against Paris Saint-Germain.
The French forward was on a blistering form on Wednesday night as he helped Real Madrid to overturn a 2-0 deficit and claimed the quarterfinals ticket.
Benzema has now scored 309 games surpassing the legendary Alfredo Di Stefano to become the club's third-highest scorer of all-time.
Also, at the age 34 years and 80 days, Benzema is the oldest player to score a Champions League hat-trick.
He surpasses Olivier Giroud, who was 34 years and 63 days when he hit a treble for Chelsea at Sevilla in 2020.
The Frenchman in. an interview said: "We knew they're a team that if you put them under pressure, they don't panic, but it's more difficult for them.
"When you take the ball off them, when you put them under pressure, they can't connect with the three up front.
"It's the problem of all the teams that want to play the ball out from the back.
"When they're pressed, it causes them problems."
Reacting in his first goal, he said: "The goalkeeper waited and waited, he lost the ball and it was a goal.
"He should have cleared it, simple as that."
The Los Blancos prior to the games where not favored to reach the round of 16 by bookmakers and PSG paraded Lionel Messi, Neymar Jnr and Kyllian Mbappe in front.
The Spanish giants lost the first leg by 1-0 and Benzema admitted they were lucky to have left France with just one goal deficit.
 "In the first leg, we have to say we were lucky to leave there only losing 1-0.
"But we knew it would be different in Madrid. We pushed, we conceded a goal, but we were confident that we would have chances."
He dedicated the victory to all Real Madrid Supporters .
"We needed the fans and this is for them.
"It was a very difficult game but we pushed till the end and we deserve the win.
"We lost the first leg, they went 1-0 up, but our fans pushed us to give everything right to the final whistle."