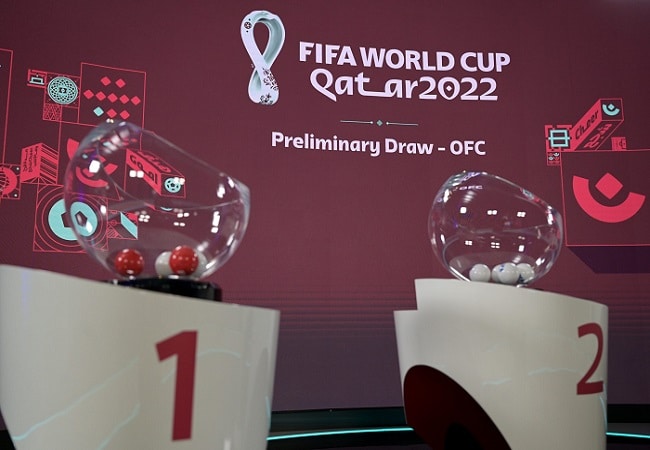 The group stage draw for the Qatar 2022 World Cup running from 21 November to 18 December 2022, will take place at the Doha Exhibition and Convention Centre in the Qatari capital city on Friday, April 1 at 16:00 GMT. And former Super Eagles captain, Jayjay Okocha will join other football legends for the event.
Okocha will be alonside German football legend and 1990 World Cup winner, Lothar Matthaüs, Brazilian 2002 World Cup-winning captain, Cafu, Algerian football legend Rabah Madjer, Australian football legend, Tim Cahill, former Qatari international Adel Ahmed MalAllah, and former Iranian international Ali Daei. The coach of the Super Eagles at the 1998 World Cup, Bora Milutinovoc will also be there.
The conducting team for the draw will be Carli Lloyd, Samantha Johnson and former Tottenham and Newcastle midfielder, Jermaine Jenas.
Cafu who played in three consecutive World Cup finals and won it twice said it's a thing of pride for him to be at the draws. It's his third time participating in the draw for the World Cup.
"I am getting used to this. But it still gives me goosebumps." Said former captain.
"It is a sign that the World Cup is getting nearer. It is nearly 20 years since I became the last South American player to lift the World Cup. And it is a memory I will always cherish. Playing at the World Cup, when your whole country comes to a standstill to watch the game, is incomparable."
Serbian coach, Milutinovic, known in Nigeria as simply 'Bora' is the only coach to have managed in five editions of the World Cup between 1986 and 2002. He led the Super Eagles to a round of 16 exit in 1998 after replacing Phillipe Troussier just before the World Cup.
Ali Daei was until last year the leading international scorer in the world before being beaten by Cristiano Ronaldo. He scored 109 goals for Iran when he played.
Algerian Madjer was a key cog of the Les Fennecs team to the Espana 82' World Cup and led Algeria's shocker against Germany.
MalAllah, a former Qatari international is representing the hosts at the dra. And he's elated about the prospect.
"I'm thrilled to be a draw assistant in my home country, and proud of Qatar. A FIFA World Cup in our region is a dream come true for every Arab footballer and football fan. This generation will make history on the pitch. And we cannot wait to welcome the world here in just a few months' time." He said.
Also Read : CHECK OUT ALL THE AFRICAN NATIONS QUALIFIED TO QATAR 2022
On Tuesday, Senegal, Ghana, Tunisia, Morocco and Cameroon are the African representatives to book their places for Qatar 2022. Sadio Mane scored the winning kick as Senegal beat Egypt 3-1 on penalties, with Mohamed Salah among the Egyptian players to miss their spot-kicks.