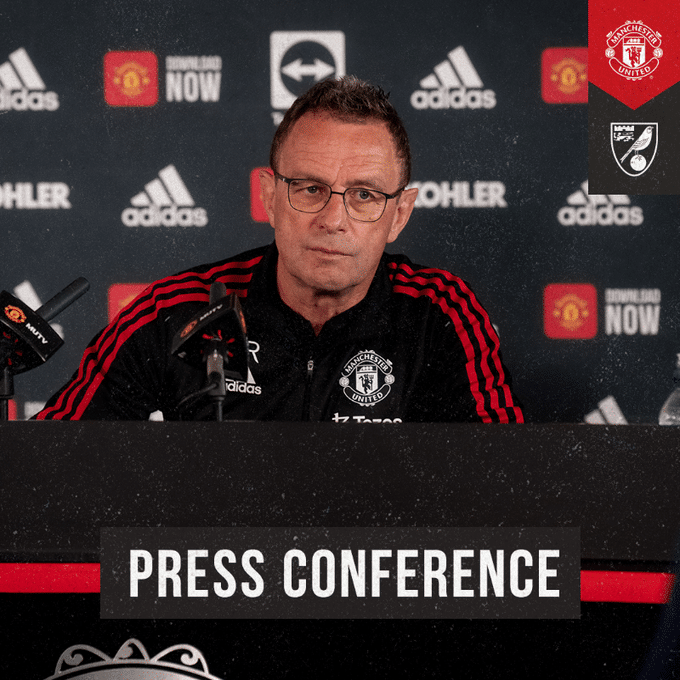 Ralf Rangnick has delivered a final update on his Manchester United squad, which will be missing five players for our Easter weekend match at Old Trafford against Norwich City.
Rangnick held a pre-match press conference at Carrington on the eve of the Reds' Premier League match against the Canaries, which kicks off at 15:00 BST on Saturday.
Scott McTominay, Luke Shaw, and Raphael Varane were all absent for the German during our most recent match, against Everton, joining Edinson Cavani on the bench.
And it was during that encounter that Fred picked up an injury, forcing him to come out in the first half of our 1-0 loss at Goodison Park.
Rangnick stated the five aforementioned players will all miss the weekend's encounter in M16 during his pre-Norwich media session on Friday afternoon.
"You already mentioned Fred and Scott. Rapha Varane, Luke Shaw had his bolts and metal stuff removed from his leg and Edinson Cavani, those are the five that will be missing."
Rangnick went on to give an update on Shaw's operation last week to remove some metal work from his leg, saying that while the treatment went well, the recuperation time could be longer than expected.
"Yeah, as it seems, he will be out for at least another four weeks, if not five weeks," Rangnick explained.
"So I think for him it will be difficult to be available for one of the outstanding remaining seven games."
Varane's return was also discussed in greater detail by the 63-year-old, who spoke exclusively to club media.
"I think probably with Raphael Varane he's the one who can hopefully can back for at least one of the next two games against Liverpool or Arsenal," he said.
"With the others, I don't see them coming back within the next couple of days."