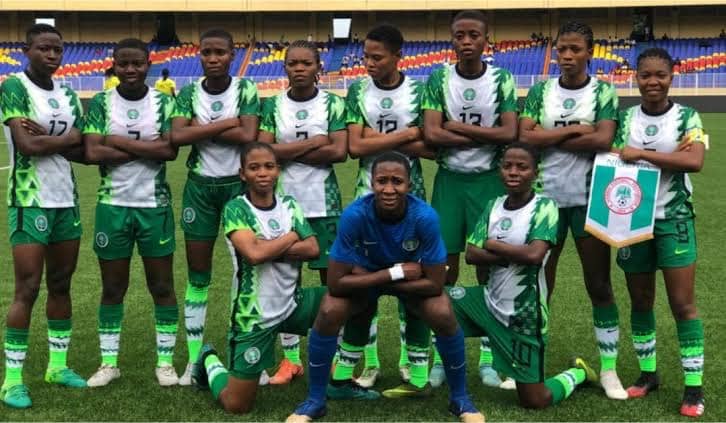 After a 4-0 defeat of their Egyptian counterparts at the MKO Abiola National Stadium in Abuja on Sunday, Nigeria's U17 girls edged closer to the last round of the African qualification series for this year's FIFA U17 Women's World Cup.
Tumininu Adeshina, a defender, hit the side netting in the 13th minute before Opeyemi Ajakaiye, the team's leading scorer, earned acclaim with a snap shot after chesting the ball outside the eighteen-yard box.
The ball, however, was somewhat off aim.
In the 20th minute, Adeshina missed the target again, but Ajakaiye scored her fourth goal of the qualifiers in the 28th minute with an angled strike that beat goalkeeper Habbiba El Taher fair and square.
Three minutes later, the tenacious Laila Zaher overcame the Nigerian defence and forced goalie Faith Omilana to make a stop before the ball was cleared.
Nigeria refused to give up, and forward Omowunmi Bello scored the game's second goal in the 39th minute, heading in a Tumininu Adeshina corner kick.
In the 46th minute of the second half, Ajakaiye weaved her way past the Egyptian defence, but Judith Okah failed to capitalise on the opportunity.
After everyone had missed a corner kick, defender Miracle Usani found herself with the ball just outside the Egyptian area and hammered the ball past goalie El Taher for Nigeria's third goal.
After being wonderfully played-in by the great Taiwo Afolabi on a counter-attack, Bello showed immense poise to loft the ball above onrushing El Taher in the 62nd minute.
Bello had two more chances to score a hat-trick, but he missed both from close range, then Ajakaiye fluffed an excellent chance with 14 minutes remaining.
Both teams meet in Cairo on the penultimate day of the month, with the winner set to face Ethiopia in the series' final round for a spot in the FIFA World Cup in India. On Saturday, Ethiopia defeated South Africa 3-0 away from home.