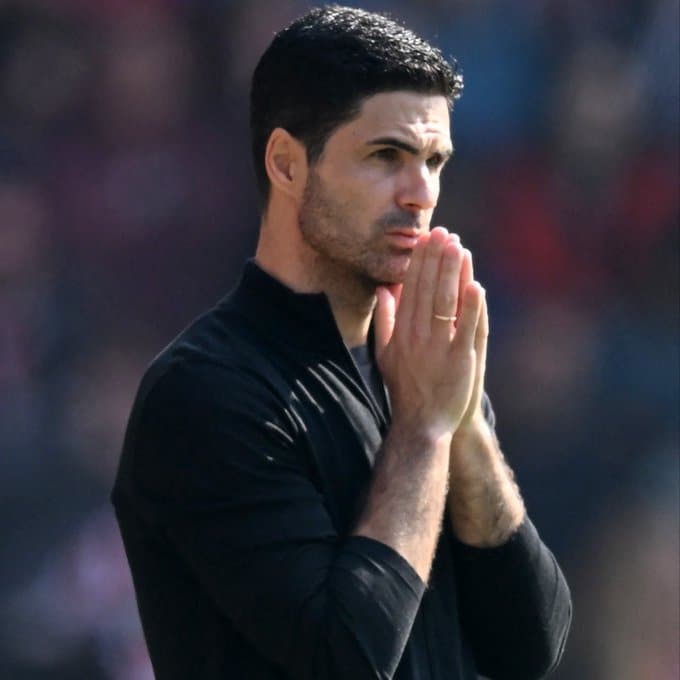 Arsenal manager Mikel Arteta says his focus and that of his players remains to qualify for the UEFA Champions League next season.
Arteta faced the media on Tuesday ahead of the London derby Premier League match against Chelsea on Wednesday night.
Arteta talked the target for himand his players to reach the European elite club competition next season and the need to finish top four and more.
He said "Champions League brings first of all the club much closer to where we want to be.
"To play in a competition that has a huge history and relation to our club.
"And secondly, obviously, it improves every situation, with the sponsors, financially, expectations, the capacity to grow our players and expose them into a different dimension of a competition and this is where we want to be, so it's a game-changer.
"The Champions League puts you with the best teams in Europe and we definitely want to be there."
Responding on the club's recent results where they lost three consecutive games, the Spaniard said:
"Very difficult, because at this club it's only about winning, and they were three different games, but with the same outcome.
"We are extremely unsatisfied with that, we know that, we're hurting, but at the same time we know how we lost and what we merited from those games are not reflected in the amount of points that we taken.
"We have to understand why we lost those games as well, but there is nothing to look back on.
"Everything is still to play for, our ambition is still in tact, our desire is still in tact.
"We know the challenge ahead and we're going to go for it.
On how he wishes to attack the game, the gaffer said they have to be in their best to face Chelsea who are champions of Europe.
"We have to be at our best against the best team in Europe that showed last year what they can do with everything that they have and with the ability that we have as well.
"We're going to go there as always to win the match and that is going to be our intention tomorrow when we're at Stamford Bridge."
Arsenal are sixth on the Premier League table with 54 points, three points behind Tottenham who are fourth on the table.