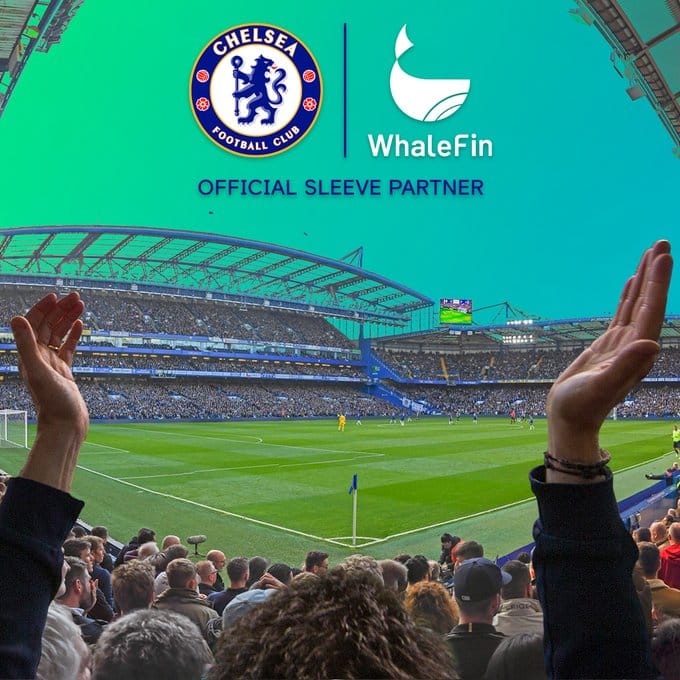 Chelsea Football Club and Amber Group, a global leader in digital asset solutions and infrastructure, launched a new relationship today.
The club confirmed the deal on Thursday in a statement on it's official website.
Amber Group will become the club's official sleeve partner as part of this historic agreement, with the emblem of WhaleFin – the company's primary digital asset platform – emblazoned across the men's and women's teams' kits beginning in the 2022/23 season.
Amber Group will present WhaleFin to football fans all across the world as the club's first digital asset partner.
WhaleFin is an all-in-one platform that serves as a doorway to crypto finance for everyone, built on Amber Group's strong expertise in serving both institutional and retail digital asset markets.
Amber Group's commitment to expanding WhaleFin's reputation through this relationship reflects the growing importance of digital assets and their role in assisting investors in building wealth in the digital age.
Chelsea and Amber Group will engage on a variety of cooperation activities aimed at growing the WhaleFin brand globally as part of the partnership agreement.
The two will also collaborate on a number of sustainability initiatives as part of Amber Group's continued commitment to creating a sustainable future for everyone.
The company has announced partnerships with the Whale and Dolphin Conservation and Moss Earth, and it is expected to expand its support for environmental efforts around the world.
Chelsea Chief Executive, Guy Laurence while responding to the deal said the deal will increase Amber Group popularity.
"This is a hugely exciting partnership for the club, which aligns us with one of the most advanced digital asset companies in the world.
"As Amber Group continue to expand coverage of their platform globally, they will now have the ability to not only speak to the hundreds of millions of loyal Chelsea fans around the globe but also be seen by the billions who tune into the Premier League each season.
On his part, Amber Group Chief Executive Officer, Michael Wu said the partnership will enable them rally a global audience.
"Our partnership with Chelsea FC is a watershed moment as we embark on the next stage of our growth globally.
"With the beautiful game's ability to rally a global audience regardless of culture, language and nationality, we are excited to showcase the full potential of digital assets to an international audience.
"With a storied club history backed by a world-class team, Chelsea FC is a class act that we are proud to partner with, as we bring digitisation and crypto finance to global users.
"We are thrilled to be associated with one of the best teams in the English Premier League, and we look forward to unlocking new sporting experiences for football fans around the world."
Amber Group is a leading digital asset platform operating globally with offices in Asia, Europe, and the Americas.
The firm provides a full range of digital asset services.
Amber Group is backed by prominent investors including Sequoia, Temasek, Paradigm, Tiger Global, Dragonfly, Pantera, Coinbase Ventures, and Blockchain.com.