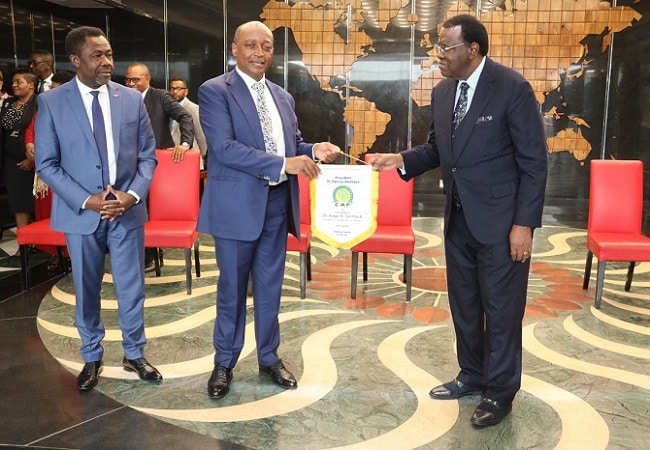 The Confederation of African Football – CAF President Dr Patrice Motsepe arrived in Windhoek, Namibia on Thursday. And CAF President held good discussions with Namibia Head of State His Excellency Hage Geingob at the State House. 
Also Read : CAF PRESIDENT TO VISIT NAMIBIA AND ATTEND COSAFA AGM THIS WEEK
President Geingob, who is a great supporter of football and a patron of football in Namibia, thanked President Motsepe for his leadership, his efforts in uniting football in Namibia, and the role he is playing in developing and advancing the future of African football.
"Football is a game that plays an important role in uniting the people of Namibia and the people of Africa. It gives young people the opportunity to dream big for themselves. We are here to support the work and efforts of CAF." President Geingob said.
President Motsepe and His Excellency Geingob discussed a number of matters including the state of football and the investment in football infrastructure in Namibia.
"I thank President Geingob whom I have had the honour of knowing for some time for his outstanding leadership and for developing and supporting football in Namibia and in Africa. Under his leadership, we have seen Namibian football make great strides on the African continent. CAF is also assisting in uniting and bringing together the different football constituencies in Namibia." Dr Motsepe said.
CAF President Dr. Motsepe was joined by the Chairman of Namibia Normalization Committee, Gerson Uirab, President of Botswana Football Association, Maclean Letshwiti, President of Angola Football Association Artur de Almeida e Silva, COSAFA Vice-President, Frans Mbidi, and CAF Secretary General, Veron Mosengo-Omba.
Earlier, CAF President met with the Namibian Minister of Sports, Ms Agnes Tjongarero and Vice-Deputy Ms Emma Kantema-Gaomas.
Dr Motsepe also held a constructive meeting with the members of the Namibian Normalization Committee at the Namibian Football Headquarters.