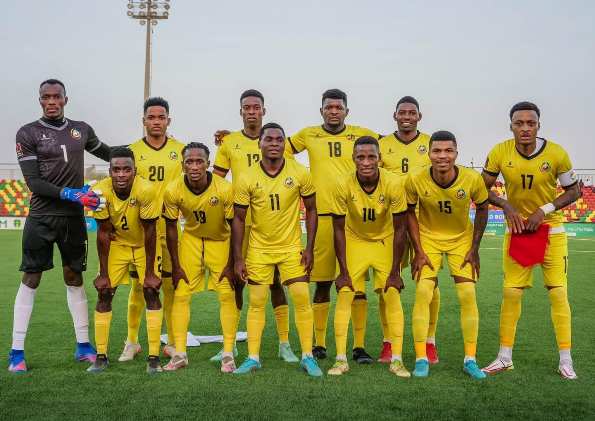 Mozambique coach Chiquinho Conde has unveiled a 35-member bloated preliminary squad for the forthcoming 2023 Africa Cup of Nations (AFCON) qualifiers.
The squad comprises 22 home-based players with the rest drawn from foreign land.
The Mambas are preparing to face Rwanda, Senegal and Benin in Group L from next month in the qualifiers.
Ahead of the AFCON qualifiers, Mozambique will fine-tune through a practice match against neighbours Eswatini on May 24 in Maputo.
Conde will trim the squad after the match against Eswatini.
Full squad:
Goalkeepers: Ernan Siluane "Ernan" (UDS), Ivane Urrubal (ABB) and Victor Guambe (Costa do Sol);
Defenders: Ifren Matola "Infren" (UD Songo), Clésio Baúque (CS Marítim), Fidel de Souss (ABB), Reinildo Mandava (Atlético de Madrid), Francisco Muchanga "Chico" (Costa do Sol), Bruno Langa "Bruno" (GD Chaves), Edmilson Dove "Edmilson" (UDS), José Júlio Mauai "Tununo" (Fer. de Maputo), Zainadine Júnior "Zainadine Jr.", (CS Marítimo), Edson Sitoe "Mexer" (FC Bordeaux), Martinho Thauzene "Martinho" (ABB), Alberto Alface "Foia" Ferroviário da Beira.
Midfielders: Manuel Kambala "Kambala" (Baroka FC), Shaquille Nangy "Shaquille" (Fer. de Maputo), Amade Momade "Amadou" (UDS), Feliciano Jone "Nené" (ABB), Saddan Guambe "Kito" (Fer. de Maputo), João José Jone Bonde "João" (Beira Fer.), Manuel Abdala Tanala "Quaresma" (Costa do Sol), Adamo Cassimo Alifa "Mare" (Beira Fer.), Elias Pelembe "Domingues" (Royal AM).
Forwards: Geny Catamo "Geny" (Vitória Guimarães), Gildo Vilanculos "Gildo" (Amora FC), Witness Quembo "Witi" (Madeira National), Reginaldo Fait "Reginaldo" (Dinamo Tirana), Salas Malico "Salas" (Fer . de Nampula), Isac de Carvalho "Isac" (Fer. de Nampula), Melven Alexandre Ribeiro Choi "Lingue" (Fer. da Beira), Melque Alexandre "Melque" (ABB), Dayo António "Dayo" (UDS), Stélio Ernesto "Telinho" (Costa do Sol), Stanley Ratifo 'Ratifo" (CFR Pforzheim).