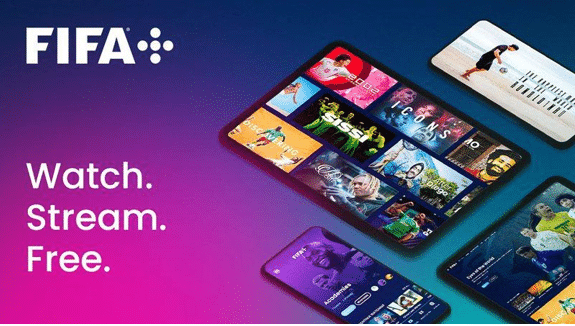 With 43% of the world declaring themselves as football fans, it is no surprise that FIFA has launched a streaming service dedicated exclusively to football, FIFA+. This new streaming channel has the potential to gain a huge audience. The last World Cup had over 517 million viewers and 1.1 billion spectators watching portions of the game. That's an impressive customer base for FIFA+ to tap into!
To football fan's delight, FIFA+ is completely free, at least for now. The programming is funded exclusively through advertising, including banners and pre-roll. With a vast number of worldwide football fans, and the potential to add on premier subscriptions for the big games in the future, FIFA+ may just be a guaranteed success!
At this time, television and media rights to major games such as the World Cup and Club World Cup will stay in place. What FIFA+ does is provide in depth coverage that football fans will love. It also streams games from places that fans previously didn't have access to, opening a whole new world of sports entertainment to football aficionados.


Live Streaming
FIFA+ will broadcast 40,000 live stream games this year. It will include 29,000 men's matches and 11,000 women's matches. Youth games for men and women will also be featured.
Games from the big European and American football nations will be covered. In addition, previously non-televised football matches in Africa, Oceana, and parts of Asia will be filmed and broadcast. The world most enjoyed sport will finally have the international coverage it deserves!
Documentaries
FIFA+ provides entertaining and informative programming for football fans. There are biographies featuring football greats including Ronaldinho, Lucy Bronze, Dani Avis, Carli Lloyd, and Romelu Lukaku.
You can also enjoy a variety of documentaries for a behind the scenes look at football. Highlights include:
Icons – A five part series featuring transformative women athletes in football.
Croatia: Defining a Nation – An against all odds success story, that brought together a nation.
Captains: Season One – This eight part series follows 6 national team coaches as they prepare for the 2022 FIFA World Cup in Qatar.
Golden Boot – A four part series on the top goal scorers at the FIFA world cups.


Historic Games
Leading up to the 2022 World Cup in Dubai, FIFA+ will feature 2,500 videos of historic games dating as far back as the 1950s.  Every FIFA men's and women's world cup match recorded will be shown.
Programming
FIFA+ caters to fans around the world. From the big football nations such as Brazil, to the non-televised soccer matches in Africa, there is something for every soccer fan. In fact, every country will have its own homepage tailored to their fan base.
Football fans can tune into FIFA+ for enjoyable talk shows, shorts, news and tournaments. FIFA+ will also produce podcasts so their programing can be enjoyed on your drive to work!
Programming is currently available in English, Spanish, Portuguese, French and German. Beginning in June of 2022 it will also be broadcast in Italian, Arabic, Mandarin, Korean, Japanese and Hindu.
Interactive Games
Thanks to FIFA+, you can watch live matches and exclusive content, with some of the biggest names in both men's and women's sports. What's more, if you consider yourself a bit of a risk taker and like online gambling, you can even try your luck at sports betting. After all, you'll have the latest scoop on all the best soccer matches around! But if sports betting is not your thing and you still want to win some extra money, why not play the lotto? Who knows, your potential win could very well fund the tickets to your next live match!
In addition, you can enjoy a variety of interactive games on FIFA+. Whether you enjoy fantasy games, predictors, quizzes or votes there is something for everyone who wants to really get into the game. In fact, football influencers can get involved through the FIFA+ creator network and contribute to the content.
For so many soccer fans worldwide, FIFA+ is a dream come true. Whether you enjoy watching live games, historic games, documentaries or interactive games, FIFA+ has something for everyone. No subscriptions. No fees. Just football.
FIFA+ began streaming on April 12, 2022.  It can be viewed at FIFA.com, or on your mobile device through Appstore and Google Play.