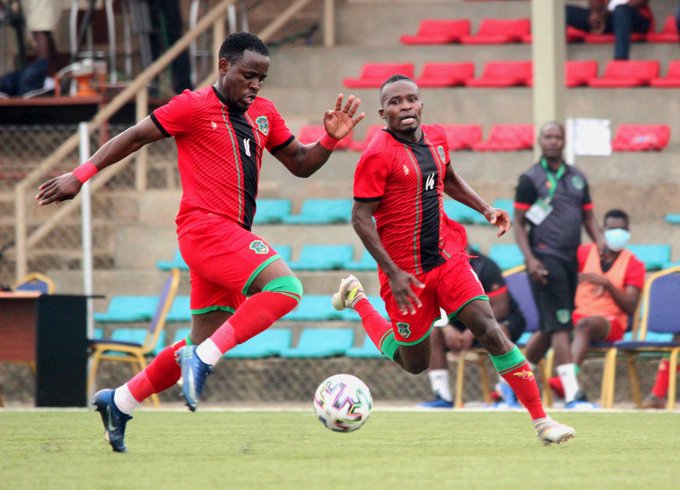 Malawi started the 2023 Africa Cup of Nations (AFCON) group D qualifying campaign with a 2-1 win over Ethiopia on Sunday afternoon.
The Flames lead 2-0 at half time with both goals coming from Gabadinho Mhango.
The Orlando Pirates striker scored the first goal in the 10th minute from the penalty spot after Ethiopia's Yared Bayeh had fouled Malawi striker Stain Davie.
The AmaZulu-bound striker grabbed his second goal again from the penalty spot in the 34th minute after Mignot Debebe fouled Mhango.
He stepped forward to fire the ball into the net.
Ethiopia stepped up the tempo in the second half and reduced the arrears through Abubekker Nasir from the penalty spot after John Banda fouled a striker for the visitors.
Malawi will proceed to face Guinea on June 9 while Ethiopia host Egypt at the same Lilongwe venue.
Only two top teams from the group will qualify for the AFCON finals in Ivory Coast.
Starting Line-Ups:
Malawi: Charles Thom, Stanley Sanudi, Gomezgani Chirwa, Chembezi Denis, Lawrence Chaziya, John Banda, Gerald Phiri, Chimwemwe Idana, Gabadinho Mhango (Chikoti Chirwa), Khuda Muyaba, Stain Davie
Ethiopia: Fasil Gebremikiel, Hamid Suleiman, Remedan Yosouf, Mignot Debebe,Yared Bayeh, Dawa Hottesa, Shemeles Bekele, Mesoud Mohammed, Abubekker Nasir, Amanuel, Yohanes