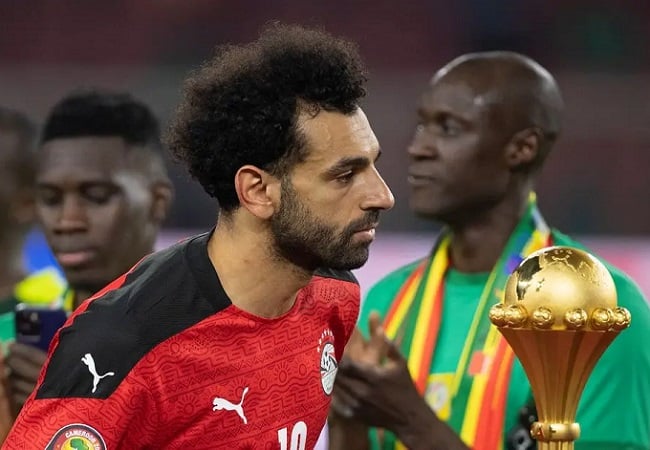 Former Egypt legendary coach Hassan Shehata believes that "from a technical point of view," Liverpool star winger Mohamed Salah "has not achieved anything yet with the national team."
The 30-year-old is the main man for the Pharaohs. But he is yet to lift a trophy at International level, losing to Sadio Mane's Senegal in the AFCON final earlier this year.
Also Read : MANE TO COMPLETE MEDICAL CHECK ON TUESDAY – ALL PAPERWORKS SIGNED
The 75-year-old Shehata who steered Egypt to an unprecedented hat-trick of straight African Cup of Nations triumphs in 2006, 2008, and 2010 told Sada El-Balad TV channel early on Monday that "Salah is a world-renowned football star because of all of his individual achievements."
Also Read :  LIVERPOOL STAR MOHAMED SALAH CLAIMS HE IS THE BEST
"From a technical point of view, Salah did not achieve anything with the national team so far. He is a worldwide star. He should have an impact whenever he plays with the national team." The former coach added.
Also Read : RODRYGO ADMITS REAL MADRID WERE EAGER TO WIN THE UCL 'TO MAKE FUN OF SALAH'
Since making his debut with the senior national team in 2011, Salah has not won a single trophy with the Pharaohs.
Unlike his various successes at the club level, Salah's prominent achievement with the seven-time African champions was leading the Pharaohs to the finals of the African Cup of Nations in the 2017 and 2021 editions, only to end up playing second fiddle.
Salah, as the team's skipper, also managed to help Egypt qualify for the 2018 World Cup in Russian, where the Pharaohs made their first appearance in the prestigious competition in 28 years and then eliminated from the first round.
"Salah wasn't in the best shape in many games with the national team." Said Shehata, who is widely considered as one of the best coaches in the history of Egypt's national team.
Shehata also stressed that the difference in quality between the players in Liverpool and the national team had a negative impact on the performance of the former Chelsea and AS Roma player.
"Salah cannot choose the players for the national team. But he has to talk with the officials about that." Shehata noted.
"He also has to put in more effort, as the national team was playing with a strategy that always puts pressure on him on the field." He concluded.