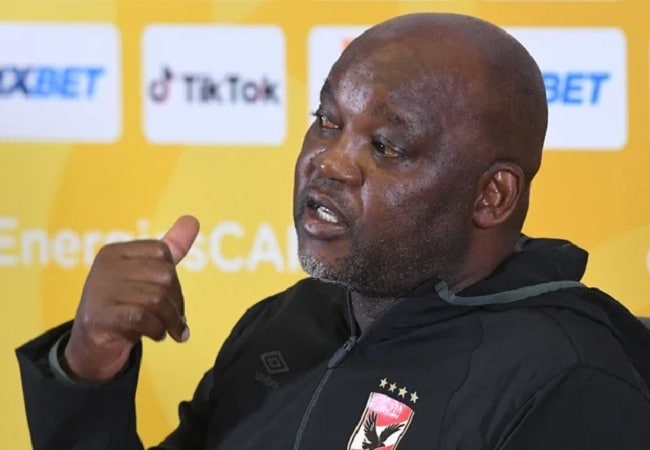 Egyptian Premier League giants Al Ahly parted ways with Pitso Mosimane after spending nearly two years in charge. The separation occurred after the club's recent poor run of results in the Egyptian Premier League and failing win CAF Campions League title for the third time in a row.
As a result, the club's official social media accounts revealed that Mosimane made the decision to step down from his role.
Also Read :  PITSO MOSIMANE BREAKS SILENCE OVER HIS AL AHLY DEPARTURE
"It was a very difficult decision." Mosimane told a South African radio broadcast.
"It was certainly a shocker for everyone at the club. But I just felt it was the right time to leave."I renewed my contract last year. And I thought I would stay longer. But all good things come to an end. I thought of paving the way for the next coach.
"You are always away from home and face a lot of criticism because, in football, you're only as good as your last match.
"In football, you can get sacked. And that happened to me in the South African national team. I had a bad feeling and this decision was not justified. There is no gratitude in football."But I am happy to have a holiday and be free of any responsibilities at the moment. And I will come back in time when I feel like it." He added.
Also Read : NO ONE FORCED ME – PITSO MOSIMANE ON LEAVING AL AHLY
By the way, the former Al Ahly head coach offered advice to his future successor. He warns the one to step in that he needs to achieve more silverware than the South African did to survive as head coach at Al Ahly.
"In two years with Al Ahly, I won seven trophies and played the CAF Champions League final three times in a row. I can only tell the next head coach that he has to do better and take this team to the next level." He added.
Also Read : EX-AL AHLY COACH EMBARRASSED TO SEE EXPERIENCED GAVIN HUNT STILL JOBLESS
During his 21-month tenure, Mosimane had led the Red Devils to three CAF Champions League finals in a row, winning both the 2020 and 2021 editions of the competition.
He had also led the team to two consecutive FIFA Club World Cup bronze medals, two CAF Super Cup victories, in addition to an Egypt Cup and an Egyptian Super Cup coronations.