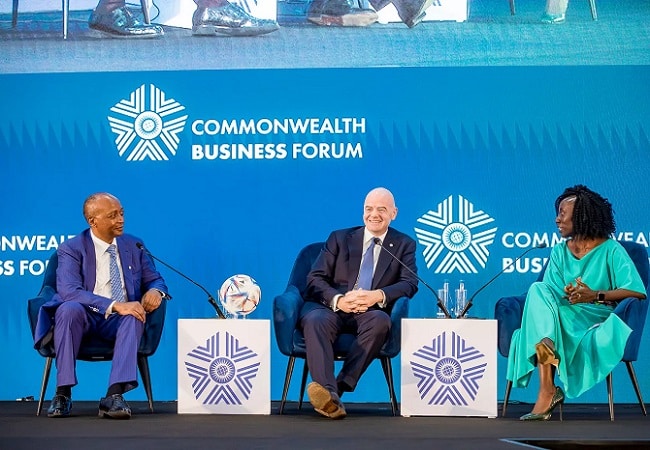 FIFA President Gianni Infantino has attended the Commonwealth Heads of Government Meeting 2022 (CHOGM) in Kigali, Rwanda.
During the meeting on June 23, Infantino spoke of the importance of investing in football, and the transformation that it can bring as he took part in the discussion.
Also Read : NEXT FIFA CONGRESS TO TAKE PLACE IN RWANDA IN MARCH 2023
Alongside CAF President Patrice Motsepe FIFA President also spoke of football's special qualities and the FIFA World Cup's powers to unite people.
"Every sport is great. But football is more than a sport. It is more than a game, it is very special, it has this emotional bond. And that is why we are investing a lot, in the Commonwealth in particular." Said President Infantino.
"The important (thing) is to invest in the game, invest in the education of our children through sport and through football. Because through sport and football, you can learn a lot. You can learn to respect the rules, you can learn team spirit. You win when you are united with the others, you don't win on your own."
Infantino pointed out how Qatar had benefitted from hosting the FIFA World Cup™.
"The spotlight of the World Cup has transformed Qatar in terms of workers' rights, human rights, abolition of kafala system, minimum wages for workers which have happened thanks to the World Cup." He said.
"This happens everywhere in the world where you invest in football, where you invest in youth."
Also Read : FIFA UNVEILS CITIES TO HOST 2026 FIRST EVER 46 TEAMS WORLD CUP
Speaking in the same line, Motsepe admitts that "Football is a unique instrument in terms of engaging with youth, because of the huge impact it has. In Africa we use the force, the power, the engine of football to ensure the quality of African football is world class and football in Africa, the clubs in Africa, the nations in Africa can compete with the best in the world."
The FIFA President remembered how the 2010 World Cup had united that African continent when it was held in South Africa. And he believes this year's World Cup would have the same effect on the Arab world, as would the 2026 tournament in North America.
"Qatar has united the whole Arab world for the first time."
"The next one (2026) will be in North America — in Mexico, the United States and Canada. In a period when people were discussing a wall between Mexico and the United States, these two countries were bidding to host a World Cup."
He said that the last men's World Cup had attracted four billion viewers worldwide. And the women's World Cup was watched by 1.2 billion.
"There are a lot of factors in football that contribute to united people. And that is what we need more of in our world." He added.