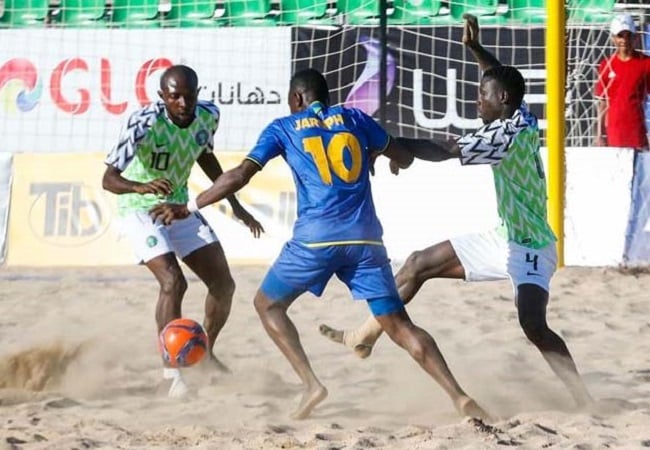 The Beach Soccer Africa Cup of Nations Mozambique 2022 qualifying match schedule was revealed on Friday during the draw held in Maputo.
The 14 nations engaged in the competition will lock horns to determine the seven countries that will join hosts Mozambique to the finals. 
Also Read : NIGERIA BEACH SOCCER TEAM IN POT 3 AHEAD OF FRIDAY DRAWS
The qualifying campaign will be played on a home and away basis on the following dates:
First Leg: 22 to 24 July
Second Leg: 05 to 07 August
Titleholders Senegal will face Cameroon with the first leg taking place in Cameroon before a return leg in Senegal.
After missing the last edition, Nigeria will be eager to make their comeback to the tournament. They will play Libya.
Morocco, another powerhouse in beach soccer in Africa, will play Côte d'Ivoire.
Below is the fixtures:
Seychelles vs Madagascar
Comoros vs Uganda
Malawi vs Tanzania
Libya vs Nigeria
Côte d'Ivoire vs Morocco
Cameroon vs Senegal
Ghana vs Egypt
The Beach Soccer Africa Cup of Nations will take place in Mozambique from 21 to 30 October 2022.