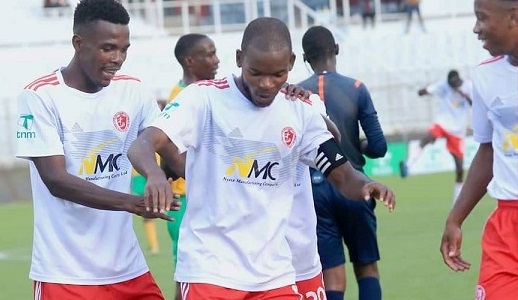 Holders Nyasa Big Bullets beat Kamuzu Barracks 1-0 on Sunday to open an eight-point gap at the TNM Super League table.
Bullets are cruising to their fourth consecutive league title taking advantage of slip ups by second-placed Blue Eagles who drew at home 1-1 with Ekwendeni Hammers on Saturday.
Blantyre rivals Mukuru Wanderers also are way too inconsistent they dropped points in a 1-1 away draw with Mafco on Saturday.
On Sunday, the league's leading scorer Babatunde Adepoju scored the lone goal of the game.
The Nigerian has taken his tally to nine goals from 13 league games.
In other games, Dedza Dynamos beat Ekwendeni 3-2 on Sunday.
On Saturday, Waka Waka Tigers lost 1-0 to Silver Strikers at Mpira Stadium in Blantyre.
Tigers are now winless in seven consecutive games in the league.
Silver are on fourth position on the 16 member log table with 20 points while Tigers sit 11th on 15 points.
In other games, Ekwendeni Hammers drew 1-1 with Blue Eagles who are now winless in five consecutive games whereas Red Lions beat Moyale Barracks 2-1.
TNM SUPER LEAGUE 2022 RESULTS
Week 13 DAY 32
Wednesday 22nd June, 2022
Dedza Dynamos 2 Sable Farming 1
DAY 33 Saturday 25th June, 2022
Moyale 1 Red Lions 2
Tigers FC 0 Silver Strikers 1
Blue Eagles 1 Ekwendeni Hammers 1
Mafco F.C 1 Mighty Mukuru Wanderers 1
DAY 34 Sunday 26th June, 2022
Karonga United 1 Sable Farming 1
Kamuzu Barracks 0 Nyasa Big Bullets 1
Dedza Dynamos 3 Ekwendeni Hammers 2