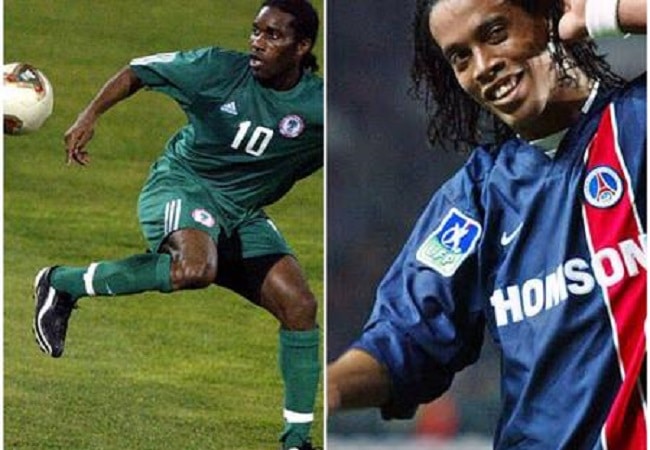 Austin Jayjay Okocha is remarkably one of the best players Africa has ever produced. And the Nigerian legend is one of the most skillful football player in the world.
Former Super Eagles coach and one of the teammates of Okocha, Austin Eguavoen admits Jayjay is the most skillful player to have ever played football.
Reacting to a tweet from FIFA questioning who is the most skillful footballer ever, Eguavoen said that it's the former Bolton captain, followed by Brazilian former football superstar and legend, Ronaldinho.
Ronaldinho and Okocha were teammates at French club, PSG. And there have been many debates about how both players were rated in world football.
Also Read : PSG MANAGER SHARES GOOD MEMORIES ABOUT OKOCHA AND RONALDINHO
The Brazilian went on to have a splendid career at Barcelona and other European clubs before returning to Brazil where he ended his playing career.
Okocha also played in three World Cups for Nigeria and mesmerised in all of them. He was also a delight to watch at the club level. But he didn't do a lot in terms of club honours.
His club career has been a source of debate for many football fans. However, the extent of his skillset is unarguable to even the most uninterested football fan.