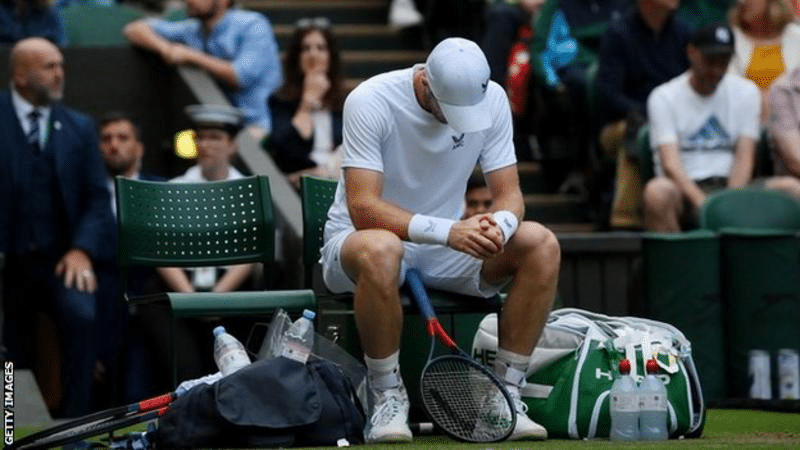 John Isner came close to surpassing the record for lifetime aces but instead ended his losing skid against Andy Murray by winning 6-4, 7-6(4), 6-7(3), 6-4 on Wimbledon's Centre Court.
The American defeated Murray for the first time in nine meetings by combining his usual excellent serving with timely returns and a composed effort at the net.
For the first time since reaching the 2018 Wimbledon semifinals, he advances to the third round.

The fourth game was where Murray's sole break point of the contest occurred. Isner took an early break and used the next game to consolidate by saving two break points.

The American had converted just one of 41 break points in his eight previous matches against Murray.

Forty-one was also the number of aces Isner needed to break Ivo Karlovic's world record of 13,728. After hitting 36 in the match, he now stands five aces short of sole possession of that mark, and will expect to reach it against 10th seed Jannik Sinner in the third round.

While Isner created just three break points on Centre Court, he connected with aggressive, deep returns throughout the match and was particularly dialled in during the second-set tie-break, when he won two of his first three return points.
Isner also displayed deft touch at net, winning 43 of his 61 net points (70 per cent) by getting his 6-foot-10 frame down low to expertly handle Murray's dipped pass attempts.


Some uncharacteristic Isner errors helped Murray take the third-set tie-break, sending the late-night London crowd into a frenzy.
But Murray returned the favour with several unforced errors to drop serve for the second time and fall behind 2-3 in the fourth set.
Isner was two games from victory when the Centre Court roof was closed at 4-2, and escaped a 0/30 hole at 4-3 with two aces and two winners. He hit a 138-mph ace — his biggest of the night — to bring up three match points before sealing victory with a drop-volley winner.

The American's 36 aces are the most any man has hit in a match against Murray, excluding Davis Cup matches.

Source: ATP Tour