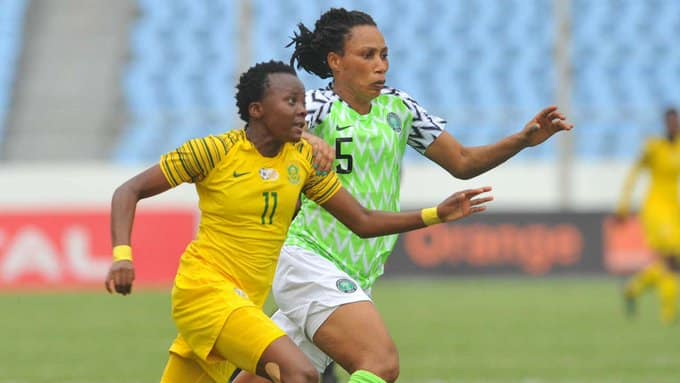 Nigeria Super Falcons rivalry against Banyana Banyana of South Africa will herald WAFCON Group C opener on Monday.
The nine-time champions will be hoping to have their pound of flesh when they play South Africa.
The rivalry between both side saw the Banyana Banyana do the unthinkable when they lifted the maiden edition of the Aisha Buhari Invitational competition in Lagos.
Rewind to 2018 when South pushed Nigeria to the limit. South Africa is therefore anticipated to be Nigeria's top title rival in 2022.
Banyana Banyana, however, put in the most effort in their preparations for Ghana 2018, playing in 20 international matches between 2017 and 2018, including high-profile matchups against Sweden, France, the Netherlands, Belgium, Hungary, Finland, Chile, and Korea DPR.
Banyana has only recently competed against top-ranked teams once (Netherlands, April 2022) following a dominant 4-2 victory over Nigeria in the 2021 Aisha Buhari Cup.
Super Falcons have strengthened their team by adding some professionals who were born abroad.
In recent years, the Super Falcons have also competed in friendlies against the reigning world champions USA, Canada, Portugal, and Jamaica.
There is no doubt that Monday's opener will go a long way to determine who will finish top of the group which also have Burundi and Botswana.
However, if there could be any team that will stand on Super Falcons quest for a 10th WAFCON title, Banyana Banyana can never be left out.
But to dare stop Super Falcons from clinching a record 10th title the rest team will need to dig much deeper.
The second Group C game will be between debutant Botswana who will later take on Burundi.
Both teams will be hoping to go for the points as morale booster ahead of their next meeting with group favourites, Nigeria and South Africa.
How To Watch the match
For Nigerians, they can watch the game on AfroSports with 6pm as kick off.
South African can watch the game on Supersports.
WAFCON 2022 FIXTURES FOR MONDAY
Nigeria Vs South Africa -18:00
Burundi Vs Botswana-21:00