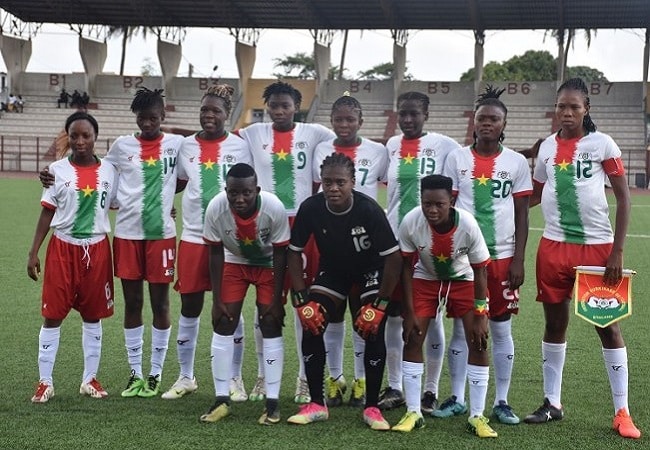 Burkina Faso will meet Senegal on Tuesday at 18h00 for the second round of Group A fixtures in the 2022 TotalEnergies Women's Africa Cup of Nations (AWCON) at the Moullay Abdellah Sports Complex.
For the Women's Stallions of Burkina Faso, it is a must win game to help them maintain their chances of qualifying for the next round. On the other hand, a victory for the Teranga Lionesses will send them through to the tournament's second round.
It will be the first time the two sides meet and the coach of Burkina Faso, Pascal Sawodogo, is well aware of the task that awaits him and his team. But he remains optimistic.
"Our state of mind is good. And we learned a lot from the first game. If we put in the same desire as we did in the second half of the match against Morocco, there is a way to get something from the match." Said Sawodogo.
Also Read : WAFCON 2022: MOROCCO DEFEATS DEBUTANTS BURKINA FASO 1-0
The captain of the Etalons Dames, Charlotte Millogo, said at a press conference that despite their opening day defeat, there was a healthy atmosphere within the group.
"The defeat against Morocco is already forgotten. We are focused on the match against Senegal. We followed them yesterday against Uganda. And we know what we have to do." Said Millogo.
The physical toll of the tournament's early stages may have a say in this meeting, as the Lionesses have had one day less recovery time than their opponents.
It is a situation that, however, does not worry Senegal coach Mame Moussa Cissé, who says "it matters yes, but it's not a determining factor. We will have to adapt".
"We wanted to start this AWCON with a victory. It's done. I have read everywhere that it was a historic victory, but it is ridiculous. After the game, the players partied in the locker room. But right after we stopped gloating. We immediately focused on our goal. If we win, we qualify for the second round. And that's the most important thing today." Said Cissé.
Also Read : WAFCON 2022: SENEGAL MARKS RETURN WITH 2-0 WIN OVER UGANDA
A qualification for the second round would indeed be historic for Senegal and more particularly for its captain, Safiétou Sagna.
"Of course, after our first victory I was moved. I was there, with the selection that participated in AWCON in 2012. To be able to qualify and write a page of Senegalese football as captain would be incredible." Said the veteran Sagna, who is leading her team back to the tournament after a 10-year absence.