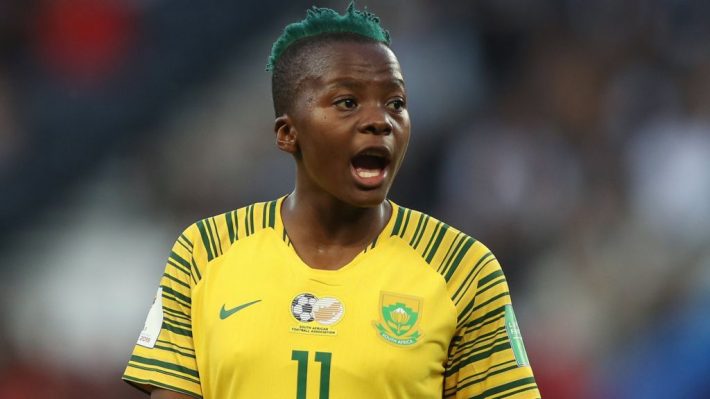 South Africa's Banyana Banyana were wasteful upfront but still did enough to qualify for the Women's Africa Cup of Nations (WAFCON) quarterfinals after cruising past Burundi 3-1 in Morocco on Thursday evening.
Banyana Banyana, with the wind in their sails after the opening 2-1 win over holders Nigeria earlier this week, took a commanding 2-1 first-half lead against Burundi in this Group C encounter at Stade Moulay Hassan.
South Africa went ahead through star Thembi Kgatlana's early effort but Anniela Uwiwana burst into the box to meet a cut-back from the left and slot into the Banyana Banyana's net for the equalizer for Burundi.
However, Motau restored Banyana Banyana lead in a blistering counterattack a few minutes later.
Banyana Banyana could have easily scored two more goals but Kgtlana missed with an open goal in a casual manner. The Spain based winger opted no to pass then moments later Motlau had her penalty saved by Burundi keeper Jeanine Irakoze who guessed then dived right.
Banyana Banyana led 2-1 at half-time.
When play resumed, South Africa coach Desiree Ellis made changes with Linda Mutlhalo replacing defender Moodaly in an attacking move. Burundi also freshened things up.
However, it was the change for South Africa that made the difference as midfielder Motlau scored from the penalty spot in the 54th minute.
South Africa earned the penalty after keeper Irakoze had fouled Kgatlana while trying to make a recovery save following a spilled ball from an initial save.
The evening went from bad to worse for Burundi substitute Annociate Nshimirimana was red carded for a dangerous foul on her opponent.
South Africa could have easily added more goals but Irakoze made save after save at times in an unbelievable manner to give Burundi some hope.
Burundi went into the match while smarting from a 2-4 loss to Botswana on July 4 on the same day that South Africa stunned Nigeria.
Next, South Africa date Botswana on July 10 while Burundi meet Nigeria on the same day with the team from East Africa surely out of contest.
Starting XI:
South Africa: AndileDlamini,Gamede, Cesane, Refiloe Jane, Jermaine Seoposenwe, Motau, Linda Matlou, Ramalepe, Dhlamini, Thembi Kgatlana
Burundi: Jeanine Irakoze, Charlotte Irankunda, Diane Irankunda, Anniela Uwiwana, Sandrine Niyonkuru, Asha Djafari, Cheilla Ineza, Rachelle Bakuru, Djazila Uwineza, Saffra Guinand, Peace Olga