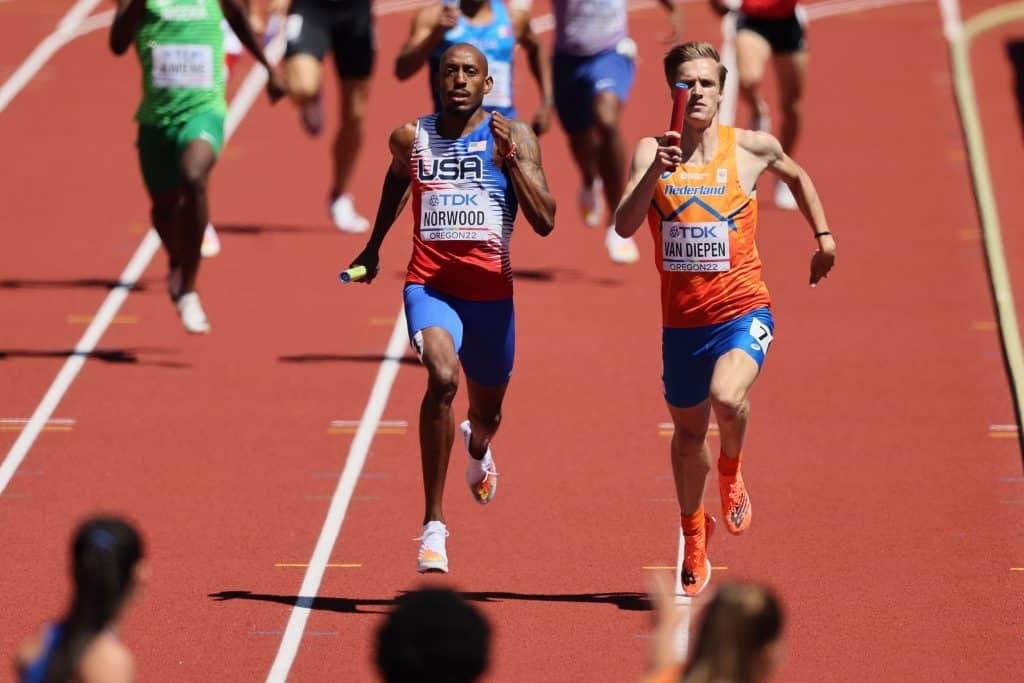 On Day 1 of the World Championships in Oregon, Team Nigeria put on a determined performance.
The quartet of Samson Nathaniel, Patience Okon-George, Dubem Amene, and Imaobong Nse Uko are on the verge of qualifying for their first-ever final of the mixed 4x400m.
They sprinted to a Season's Best (SB) of 3:14.59 to finish fifth in Heat 1.
Poland, who won the gold medal in the Olympics, and the defending champions, the United States, flanked Nigeria in Lane 3.
Nigeria did well considering they were the only African team competing in the event, finishing fifth in their heat and crossing the finish line before Great Britain and Belgium.
Nigeria will advance if the teams that finished fourth and fifth in heat 2 don't perform better this time.
Each heat will have three teams that automatically qualify, with the next two quickest times joining them.
In Heat 1, Wadeline Jonathas helped the United States finish first with a scorching World Lead (WL) of 3:11.75, teaming up with Elijah Godwin, Kennedy Simon, and Vernon Norwood to beat out the Netherlands (3:12.63, SB).
Poland (3:13.70, SB), with Italy taking fourth place in 3:13.89, SB.
Heat 2 was won by the Dominican Republic (3:13.22), followed by Jamaica and Ireland.
Emmanuel Ojeli, Uko, Nathaniel, and Okon-George from Nigeria presently hold the African Record (AR) in the event with a time of 3:13.60 at the Olympics in Tokyo.
At the World Athletics Championships in Eugene, USA, athletes Favour Ofili and Rosemary Chukwuma will not represent Team Nigeria in the women's 100-meter event.
Team Nigeria's sole competitor in this competition is Grace Nwokocha.