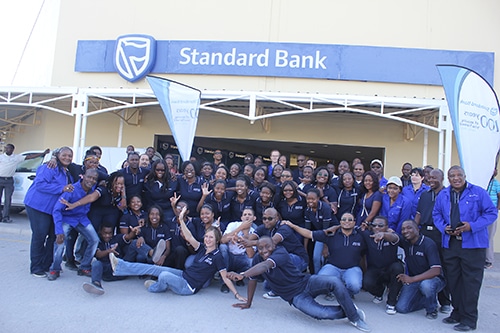 The Standard Bank Namibia Junior Hockey Initiative will kick off this week with coaching clinics for coaches and children in Omaruru, Erongo Region.
Eighty (80) children from four (4) primary schools and 8 teachers are expected to benefit from this initiative.
Next week (25-26 July) the Initiative will introduce hockey to 80 children from four primary schools in Rundu, in the Kavango East region.
On July 27-28 Grootfontein, in the Otjozondjupa region will be the next town to benefit from the Standard Bank Junior Hockey Initiative before wrapping up the coaching clinics for 2022 in Outjo on 2-3 August.
This will bring the number of schools to 52 representing 10 regions with 106 coaches trained and about 1100 u/10 junior hockey players coached in 11 months.
After the completion of coaching clinics in Outjo on the 3rd of August, regional leagues in all the 12 towns (Windhoek, Rehoboth, Mariental, Outjo, Omaruru, Ongwediva, Rundu, Tsumeb, Gobabis, Keetmanshoop, Okahandja and Grootfontein) will commence.
Each of the 12 towns will also host a regional tournament that will serve as regional trials to select the best 10 boys and best 10 girls that will represent each town at the National Festival that will be held in Windhoek on 1-2 October in Windhoek.
Gobabis I/9 girls and Okahandja u/9 boys won the inaugural Standard Bank National Festival held on 27 November last year.
During the first school term in 2022, we managed to introduce hockey to Keetmanshoop, Tsumeb, and Ongwediva.
About 260 learners and 24 teachers were trained.