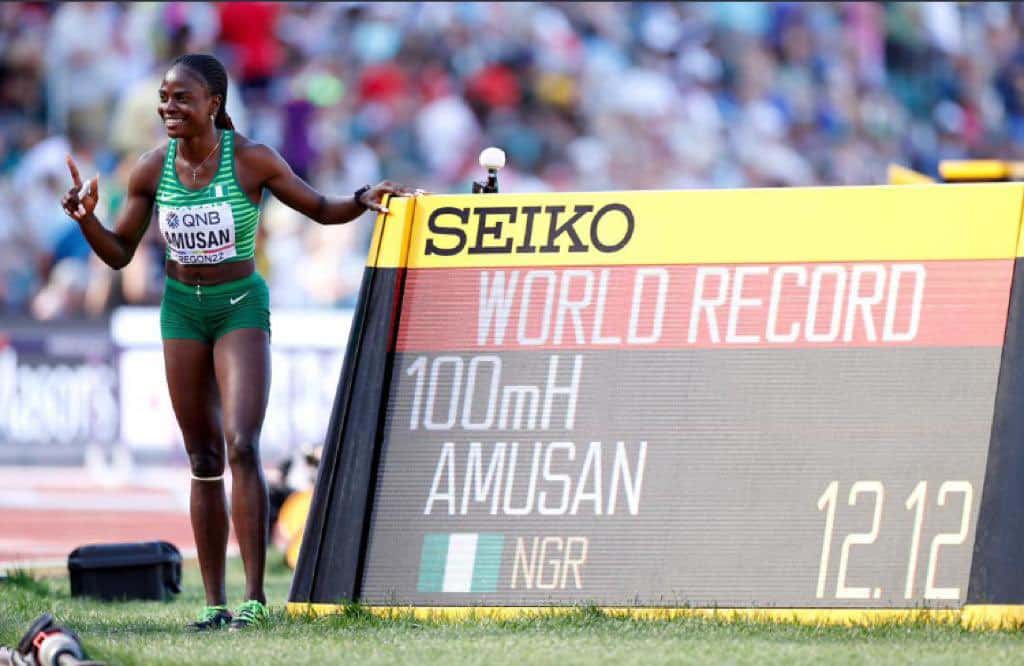 The new world champion and world record-holder in the women's 100m hurdles, Tobi Amusan said she was the 'almost girl.
Tobi Amusan began her athletic career in her home Nigeria as a juvenile sprinter and long jumper.
When she arrived at a local sports meet at the age of 13, she discovered that there was just one event left on the schedule: the hurdles.
Her coach urged Amusan to enter. The race was ultimately won by her, and the rest is history.
On Sunday, April 24, the decision to convert to the sprint hurdles paid off spectacularly when the 25-year-old Amusan broke the world record by posting a 12.12 in the World Athletics Championships Oregon22 semifinals.
She cut 0.08 off the previous record set by US athlete Kendra Harrison in 2016.
Amusan returned for the final less than two hours later and ran another outstanding race to win her first ever global gold medal and the first ever for Nigeria at a World Championships.
Amusan was timed in 12.06, but the +2.5 m/s tail wind prevents the time from being considered a world record.
Amusan finally succeeded after placing fourth at the 2018 Tokyo Olympics and the 2019 World Championships in Doha.
She also reached the top of the medal stand.
"I was the 'almost girl,'" she said. "I got fourth, fourth, fourth. Now I finally did it."
And with a world record for good measure.
"The goal was to come out and to win this gold," Amusan said.
"I just did it. Honestly, I believe in my abilities but I was not expecting a world record at these championships.
" You know, the goal is always just to execute well and get the win.
"So the world record is a bonus. I knew I had it in me but I could not believe it when I saw it on the screen after the semis.
" But it was just a matter of time."
Looking back on how she made it here, Amusan said: "It has been a long journey."
Amusan, who was raised in the western Nigerian town of Ijebu Ode, eventually switched to hurdles as a teen.
She continued to compete in the long jump and sprints, but she was able to fit in one weekly hurdles practice.
Because there were no hurdles in her village, she placed cones and tires on the track for people to jump over.
She decided she had nothing to lose and joined the hurdles after being dropped from the Nigerian 4x100m relay team during the trials for the 2014 African Youth Games.
She triumphed there before winning silver in Botswana at the African Youth Games.
Then followed a trip to Ethiopia in 2015, where she won African U20 gold, followed by a breakthrough victory at the All-African Games in Brazzaville, Congo.
"It was one of the biggest milestones of my career; winning that championship set me up for who I am today," she said.
There was no looking back; she was now a full-time hurdler.
Amusan won a scholarship in 2016 to study at the University of Texas, El Paso, where she put in a lot of work to lower her personal record from 13.10 to 12.83.
She trained at UTEP under new coach Lacena Golding-Clarke, a Jamacian three-time Olympian and 100-meter hurdles champion from the 2002 Commonwealth Games.
Of course, there were obstacles in the road. Amusan had trouble with her technique at the U20 world championships in Bydgoszcz, Poland in 2016, when she placed sixth.
She was so distraught that she considered giving up the sport.
Amusan recovered, though, and after making it to the Olympic semifinals in Rio de Janeiro in 2016, she ran undefeated in the 2017 outdoor US collegiate season to win the NCAA championship with a personal best time of 12.57.
She entered the 2017 World Championships in London as the fourth-fastest hurdler of the year, but due to cramping brought on by the chilly weather, she was unable to go to the final.
"After London," she said, "I learned that the fact that I was in the mix, knowing I was capable of doing stuff at this age – I was just 20 – and being ranked in the top eight makes me confident that when I get my technique right, my speed right, and get a bit stronger, I'll be fine."
At the end of that year, Amusan made the transition to the professional ranks, and at the age of 20, she won gold at the 2018 Commonwealth Games in Gold Coast, Australia.
Later that year, she also won the African Championships.
In Doha up 2019, she came in only 0.02 short of a bronze.
She missed out on a medal at the postponed Tokyo Games last year by 0.45.
"I don't think there is a track and field event which can teach humility quite like the sprint hurdles," Amusan said.
"You can be the fastest in the field but one mistake can spell the end for your race.
"A hurdler should never go into any race with any level of complacency or arrogance. It teaches you to be humble."
Amusan can afford to be a little less modest for the time being, at least.
She is, after all, the world's best and quickest person ever.
Not bad for someone who stumbled into being a hurdler.