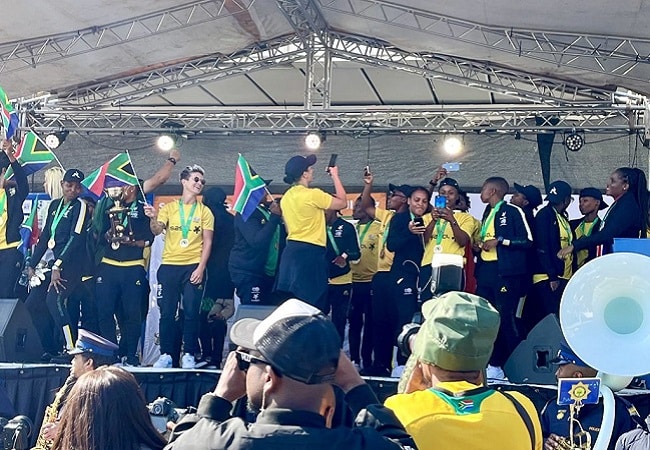 Banyana Banyana made a spectacular entrance at Johannesburg's OR Tambo International Airport on Tuesday after winning the 2022 Women's Africa Cup of Nations (Wafcon) in Morocco.
Banyana landed on Tuesday morning, with a large number of South Africans ready to welcome the side after winning the WAFCON in Morocco.
The players had already been promised R400 000 each for winning the competition. And they will now be more to take home after Minister of Sports, Arts and Culture, Mthethwa handed the team a cheque of R5.8 million on stage. 
Also Read : BANYANA TO CELEBRATE WAFCON TRIUMPH WITH PRESIDENT RAMAPHOSA
During his speech, Mthethwa also said that it would soon be a law for Banyana Banyana and Bafana Bafana players to be paid equally.
"It is going to be a law in this country for Banyana Banyana and Bafana Bafana to be paid equally. Because we are making that happen as a government. It's not only this team, but all women's teams. We are supporting them as the government." Mthethwa said during his speech.
There was a lot of excitement for Banyana, with the supporters showing their love for the players when each one was called onto the stage.