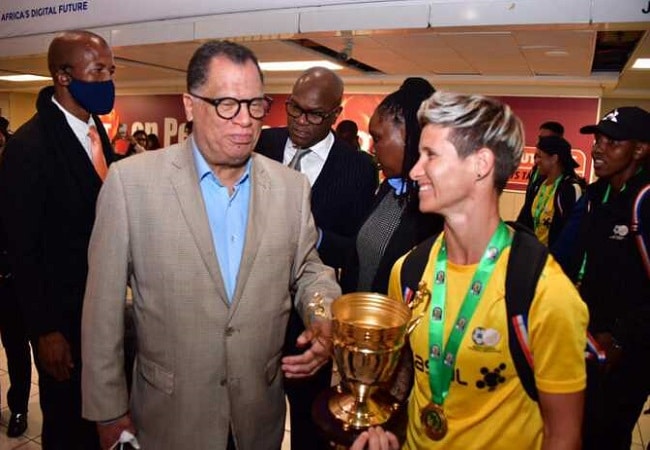 Crowds of fanss were at OR Tambo International Airport in Johannesburg to welcome South African women's soccer team Banyana Banyana who have honoured their nation with their first ever Women's Africa Cup of Nations (Wafcon) trophy.
Also Read : BANYANA TRIUMPHANTLY WELCOMED HOME TO RECEIVE ADDED PRIZE MONEY
They defeat host nation Morocco 2-1 on Saturday to be crowned. They are the first team to win all six games in the tournament. 
Speaking at the welcome, South African Football Association, SAFA president Danny Jordaan said there would be a resolution to deal with gender pay gaps in the sporting fraternity as announced by the SA sports minister.
"I spoke to the minister [Nathi Mthethwa] and we said we will meet with the government as soon as possible … We must work together to address this disparity between men and women in sports … While we celebrate we must also recognise there are challenges we are ready to meet." Said Jordaan. 
Proud of this victory led by a local Coach Desiree Ellis, General Nene called on government to trust the nationals.
"Their win is a message to SA football that local coaches must lead the national teams. Because you can't send someone from another country to lead and win us something."