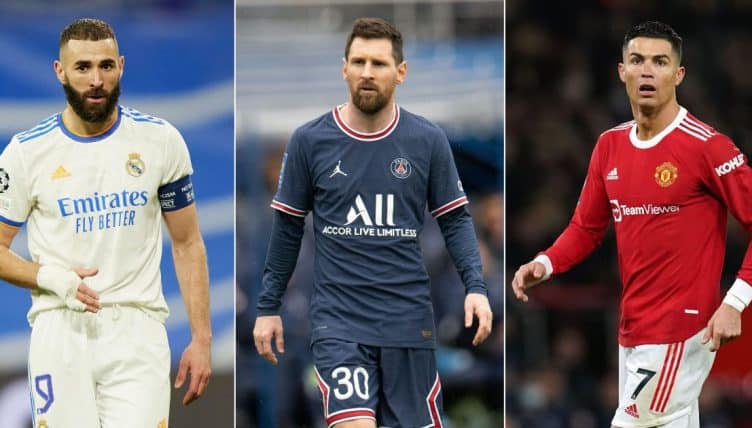 Pop Foot released a Top 20 of the players with the most followers on social media featuring Cristiano Ronaldo, Lionel Messi and African star Mohamed Salah.
Ronaldo is unsurprisingly dominating the chart with over 400 hundred millions on Instagram.
The Portuguese star is the most followed athlete on earth thanks to his contents which fans like a lot.
CR7 is followed by his everlasting opponent Lionel Messi who ranked second in this chart while Neymar seats third.
Read more : Sadio Mane is not a top class player – Ex-Bayern Munich CEO
Real Madrid goal-getter Karim Benzema is sixth on the list while legendary Spanish centre-back Sergio Ramos is 7th.
Top 20 of Players with Most Followers on social media
20- Antoine Griezmann : 66 637 259
19- Toni Kroos : 71 727 389
18- Luis Suarez : 79 940 297
17- Mesut Özil : 81 752 215
16- Mohamed Salah : 84 974 454
15- Kaka : 88 190 420
14- Paul Pogba : 90 871 644
13- Andres Iniesta : 93 368 749
12- Gareth Bale : 94 530 248
11- Kylian Mbappé : 96 629 404
10- 99 082 103
9- James Rodriguez : 99 914 265
8- Zlatan Ibrahimovic : 102 566 271
7- Sergio Ramos : 102 727 463
6- Karim Benzema : 116 435 307
5- David Beckham : 128 012 436
4- Ronaldinho : 143 426 264
3- Neymar Jr : 323 007 343
2- Lionel Messi : 462 490 002
1- Cristiano Ronaldo : 725 699 886